Esports Ecosystem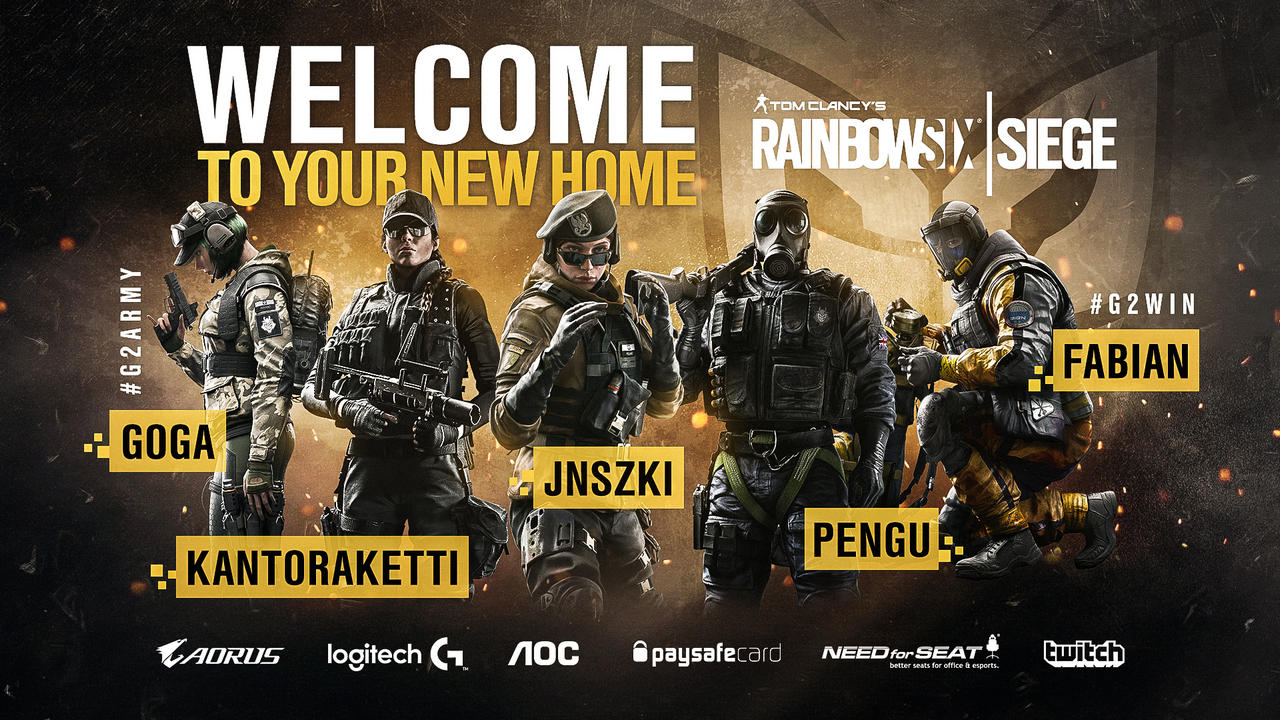 Tegaskan diri sebagai tim terbaik di Rainbow Six: Siege
Turnamen Rainbow Six: Siege (R6S) paling bergengsi di dunia, Six Invitational, akhirnya selesai merampungkan seluruh rangkaian kompetisinya hari Minggu 17 Februari 2019 kemarin. Di turnamen yang menawarkan total hadiah sampai dengan US$2 juta ini, G2 menegaskan diri menyandang predikat tim terbaik di R6S.
Tim yang digawangi oleh Fabian "Fabian" Hällsten ini berhasil menjadi juara setelah menaklukkan lawannya Team Empire di partai final dengan skor akhir 3-0 (Bo5). Meski Team Empire tak berhasil memenangkan 1 game pun, mereka sebenarnya sempat membuat kewalahan sang juara di setiap match. Dengan kemenangan tadi, G2 pun berhasil membawa pulang hadiah sebesar US$800K.
Sedangkan perjalanan G2 di Six Invitational 2019 ini terbilang mulus sejak awal kompetisi. Mereka berhasil jadi juara grup B dengan 2 kemenangan atas Mock-it Esports dan mantis FPS. Di babak perempat final, mereka berhasil mengalahkan Spacestation Gaming dengan skor 2-1 (Bo3). Berlanjut ke semifinal, Pengu dan kawan-kawan berhasil membungkam Team Reciprocity dengan skor 2-0.
Kemenangan G2 tersebut mungkin memang sudah diprediksi sebelumnya oleh para fans esports R6S karena performa mereka yang paling stabil di beberapa turnamen bergengsi sebelumnya, dibanding tim-tim lain yang berlaga di sini. Selama tahun 2018 sampai saat artikel ini ditulis, G2 berhasil mengantongi total 5 piala kejuaraan bergengsi untuk R6S yaitu:
Juara 1 Six Invitational 2019
Juara 1 DreamHack Winter 2018
Juara 1 Pro League Season 8 – Finals
Juara 1 Pro League Season 8 – Europe
Juara 1 Six Major Paris 2018
G2 Esports sendiri merupakan sebuah organisasi esports terbesar di Eropa yang cukup legendaris di CS:GO yang didirikan tahun 2013. Sampai hari ini, mereka punya 10 tim untuk game yang berbeda seperti League of Legends, Fortnite, Hearthstone, Rocket League, dan kawan-kawannya.
Selain divisi CS:GO mereka yang dulu sempat disebut-sebut sebagai tim terbaik di dunia, divisi LoL mereka juga sebenarnya cukup diperhitungkan di regional Eropa – meski dunia persilatan LoL sendiri memang tak pernah berpihak ke kawasan-kawasan barat sana.
Untuk Six Invitational 2019 nya, turnamen ini awalnya 'hanya' menyiapkan total hadiah sebesar USD500 ribu. Namun jumlah tersebut bertambah seiring dana tambahan yang didapat dari penjualan produk Pro League dan Road to Six Invitational.
Berikut ini adalah daftar pemain G2 yang berhasil menjadi juara Six Invitational:
Niclas "Pengu" Mouritzen
Joonas "jNSzki" Savolainen
Daniel "Goga" Mazorra Romero
Fabian "Fabian" Hällsten
Juhani "Kantoraketti" Toivonen