Konami Announces eFootball, Free-to-Play Successor of PES
A load of goodies await this 26-year-old football video game title.
The all-time favorite football video game published by Konami back in 1995, Pro Evolution Soccer (PES), has just been renamed to eFootball from this release onwards. However, it is not only the series' name that has been changed, as Konami planned for the long-term and added various goodies to one of the world's most popular football video games.
Firstly, the renditions of eFootball to come from now on will become free-to-play and are planned to be available on multiple gaming platforms; including the likes of PlayStation5 (PS5), PlayStation4 (PS4), Xbox Series X/S, Xbox One, Windows 10, and PC Steam. Afterwards, the game will also be similarly available on iOS and Android. With all of these available platforms and versions, a cross-play between certain devices will thus be supported.
Likewise, there will hence be no more annual, paid releases of new seasons of eFootball. As series producer Seitaro Kimura told IGN, "the platform will get free, yearly updates for new seasons" in place of the old scheme.
As hinted earlier, the change in the series' name is not all there is to it, nor is the free-to-play aspect. That is, the game will no longer run on Konami's FOX Engine, rather, it would run on an all-new, custom game engine created via Unreal Engine 4. With the novel engine, eFootball will introduce a new Motion Matching animation system, allowing for an even greater amount of animation from PES' previous renditions.
One important thing to note is that all of the different consoles will run on this very engine, hence providing a functionally equal game on all supported gaming platforms.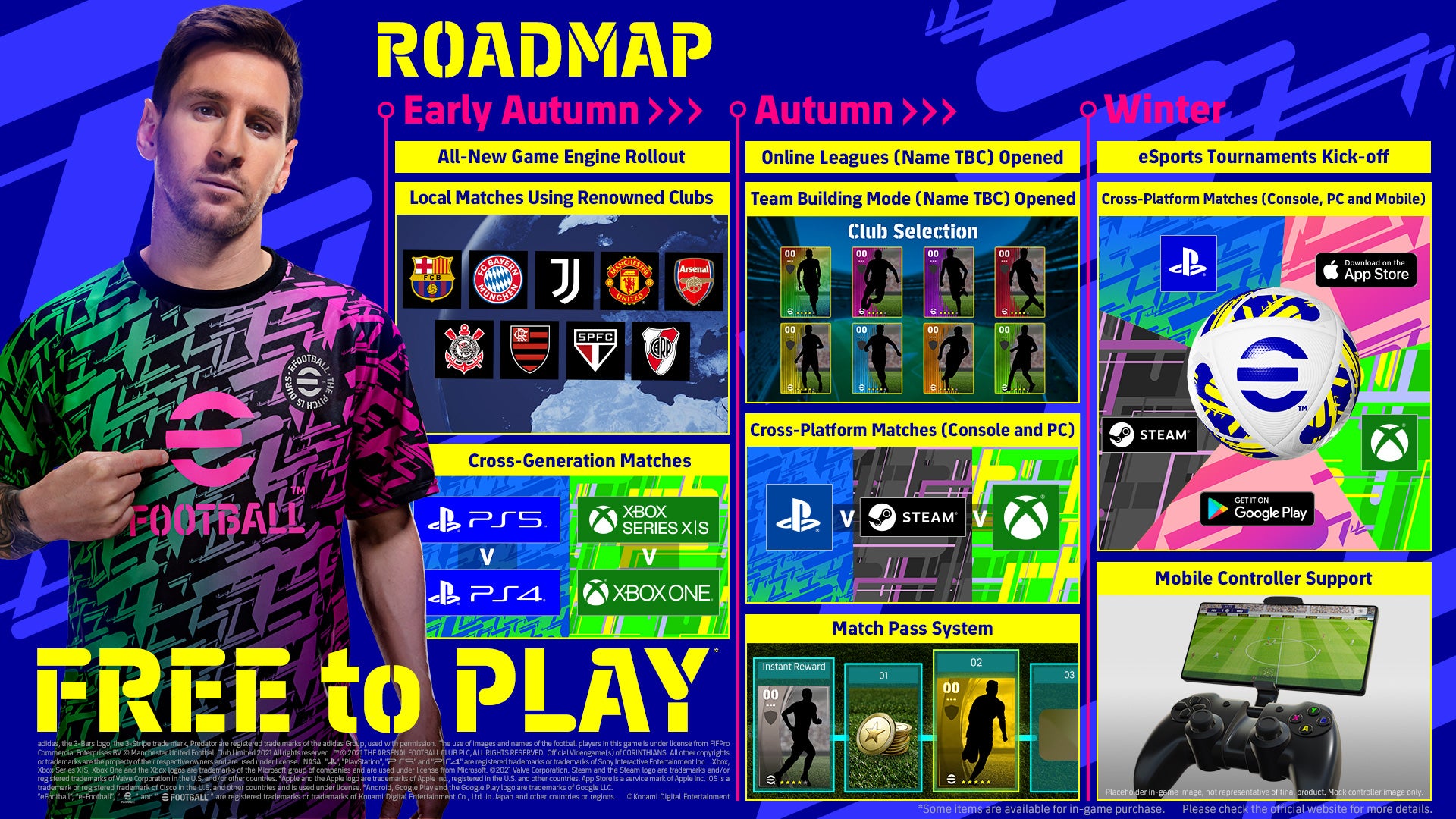 Although there isn't an official release date for eFootball yet, Konami has released a long-term roadmap that reflects the plans for their new revamp. In the series' first launch for early autumn, eFootball is planned to feature exhibition matches as well as the inclusion of nine world-renowned clubs to choose from. Then, the second launch in Autumn will introduce Online Leagues and Team Building Mode, which many believe replaces PES's former MyClub mode.
Moreover, with the game becoming free-to-play, there will probably be a different form of monetization to come. Most rumors seem to say that the Autumn release of the Match Pass System will act like a Battle Pass that fills this vacant monetization scheme.
Finally, the commencement of esports tournaments surrounding eFootball is shown to be parallel with the game's third launch in Winter. It will also mark the availability of cross-platform matches between all the different platforms and support for a mobile controller.
Featured Image by @officialpes.