Esports Ecosystem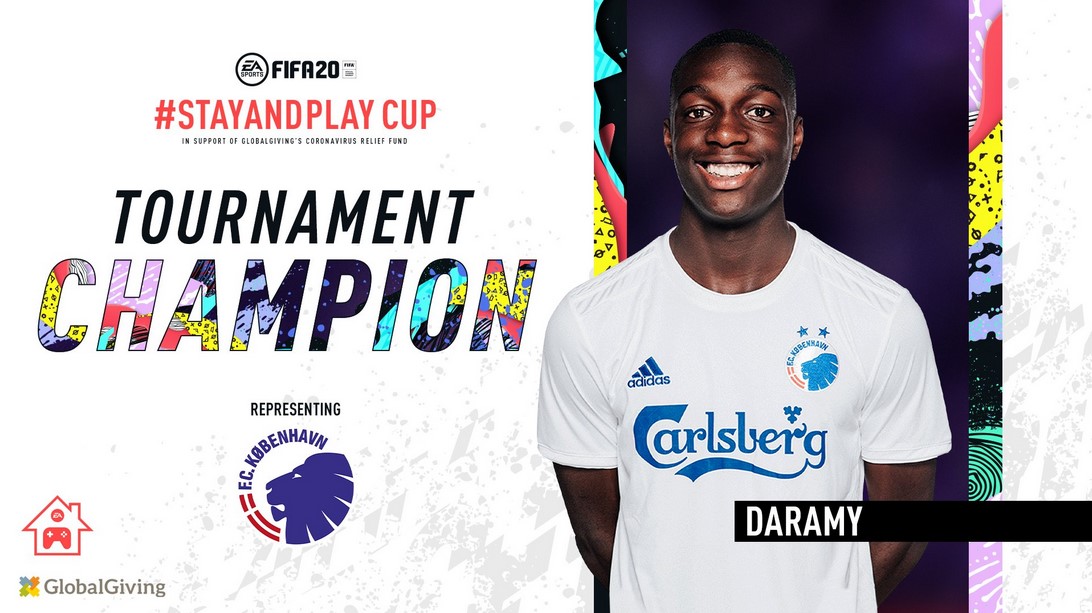 Mohamed Daramy, pemain FC Copenhagen dari liga Denmark, menjadi juara FIFA 20 Stay and Play Cup, setelah kalahkan Jesper Karlstorm pemain liga Swedia
Menanggapi keadaan krisis, yang membuat liga sepak bola jadi banyak ditunda, membuat esports game sepak bola menjadi alternatif terbaik untuk membuat pecinta sepak bola tetap terhibur. Salah satu dari beberapa turnamen yang diadakan sebagai alternatif adalah FIFA 20 Stay and Play Cup.
Digelar pada 15-19 April 2020 kemarin, kompetisi FIFA 20 ini diikuti oleh pesepakbola profesional dari 20 klub di Eropa. Pemain seperti Trent Alexander Arnold dari Liverpool, Cesar Azpilicueta dari Chelsea, atau Fabio Silva dari Porto, turut bertanding dalam kompetisi yang sekaligus menjadi laga amal untuk membantu menangani pandemi COVID-19 secara global.
Setelah pertandingan berjalan, pada akhirnya, Mohamed Daramy pemain FC Copenhagen dari liga Denmark, berhasil menjadi juara setelah mengalahkan Jesper Karlstorm, pemain tengah dari klub Djurgardens IF dari liga Swedia, 2-1. Pertandingan baru rampung setelah kedua pemain bermain seimbang selama 90 menit, sampai akhirnya golden goal diciptakan Mo Daraymy di babak perpanjangan waktu.
Sebelumnya pada babak Semi-Final saat melawan Nabil Bahoui dari AIK (Liga Swedia), Daramy juga dipaksa bertanding hingga babak perpanjangan waktu. Alhasil, Mo Daramy menciptakan kemenangannya baru setelah mencetak golden goal ketika bertanding di babak Semi-Final.
Sementara itu, dari sisi Karlstorm, ia bertanding di babak Final setelah berhasil mengalahkan Jesper Lindstorm, pemain tengah klub asal Denmark Brondby IF. Karlstorm berhasil menang dengan gaya main possession game untuk menghalangi permainan eksplosif dari Lindstorm.
Pada babak Final, berjalan sangat seru, kemenangan bahkan baru bisa didapatkan oleh Mohamed Daramy setelah ia mencetak golden goal di babak perpanjangan waktu. Kemenangan ini sekaligus membuat Mo Daramy jadi mencatatkan kemenangna golden goal kedua dalam satu hari pertandingan.
https://twitter.com/EASPORTSFIFA/status/1251959273409482752
"Ketika itu saya sabar saja saat permainan, dan sadar betul kalau saya main seperti sebelumnya, saya bisa dapat kesempatan untuk menang, dan ternyata benar saja!" ucap Mo Daramy dalam sesi wawancara yang berlangsung pada siaran pertandingan FIFA 20 Stay and Play Cup di saluran televisi ESPN2.
Pertandingan ini sekaligus menjadi laga amal untuk membantu dalam penanganan wabah pandemi COVID-19 yang sedang melanda dunia internasional. Dalam kompetisi ini Electrionic Arts mendonasikan dana sebesar US$1 juta kepada organisasi Global Giving's Coronavirus Relief Fund.
From Our Network