Esports Ecosystem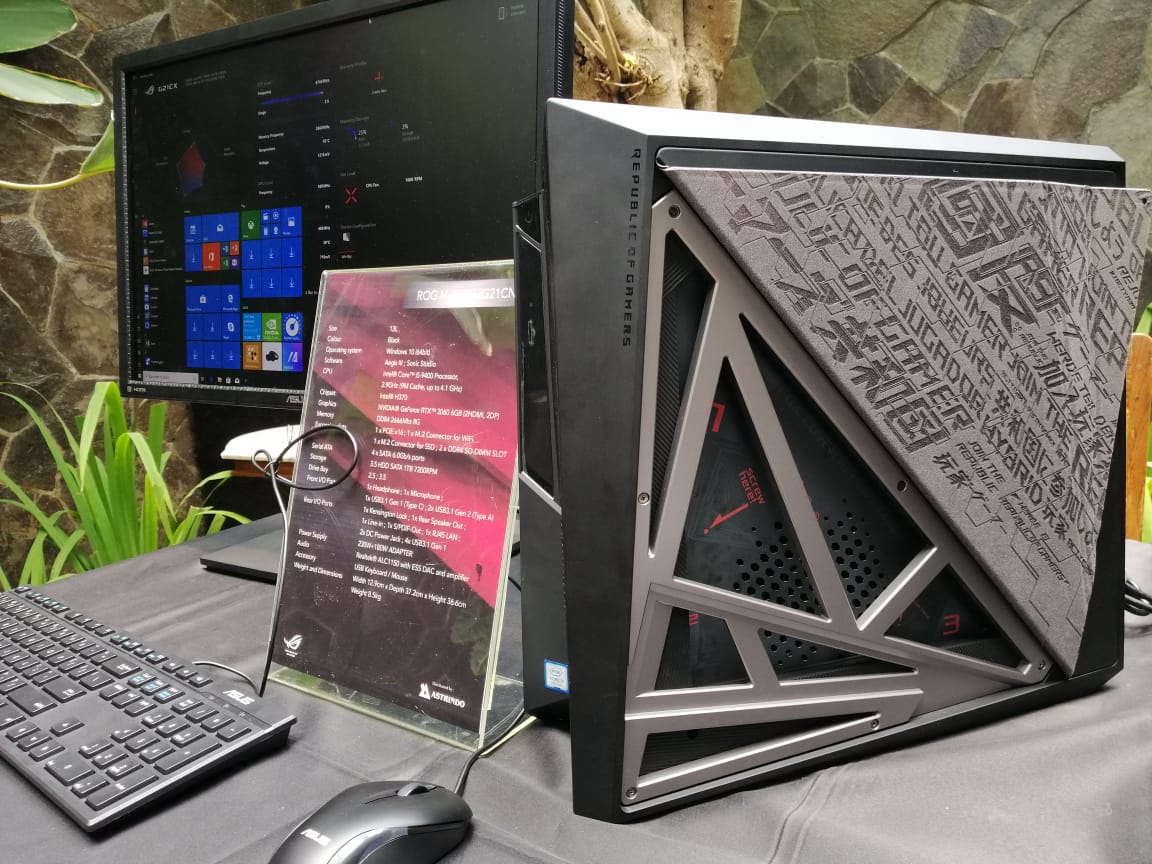 Asus meluncurkan tiga PC gaming prebuilt pada Juli lalu
Tahun lalu, Asus meluncurkan ROG Strix GL 12 yang ditujukan untuk para pemain esports. Tahun ini, Asus kembali meluncurkan penerus dari PC desktop gaming tersebut. Pada Juli lalu, selain meluncurkan ROG Mothership Asus memperkenalkan tiga PC desktop gaming terbaru, yaitu ROG Strix GL10CS, ROG Strix GL12CX, dan ROG Huracan G21CX. Saat ditemui dalam acara media gathering Asus, Astrindo, dan Lexar, Head of Public Relations and e-Marketing, Asus, Muhammad Firman mengatakan bahwa lini GL tahun ini masih ditujukan untuk pemain esports, sama seperti tahun lalu. Hanya saja, PC terbaru dari Asus itu memiliki spesifikasi yang lebih baru, mengikuti perkembangan teknologi.
Di bawah merek Republic of Gamers (ROG), Asus memang menawarkan perangkat khusus gaming, mulai dari ponsel, laptop, sampai PC desktop. Lalu, apa yang membedakan perangkat gaming dengan perangkat untuk pemain esports? "Sama sebenarnya, perangkat untuk gamer dan pemain esports. Hanya, gamer lebih luas. Karena, gamers belum tentu pemain esports, walau pemain esports sudah pasti gamers. Untuk segmen esports, perangkatnya memang khusus mereka yang profesional," kata Firman saat ditemui pada Rabu, 25/9/2019. "Kalau gaming, lebih umum, tidak spesifik untuk game FPS (First Person Shooter) atau MOBA (Multiplayer Online Battle Arena)." Dia memberikan contoh dalam soal layar. Jika gamer biasa, mungkin mereka sudah puas dengan layar 144Hz, tapi pemain esports akan ingin monitor 240Hz.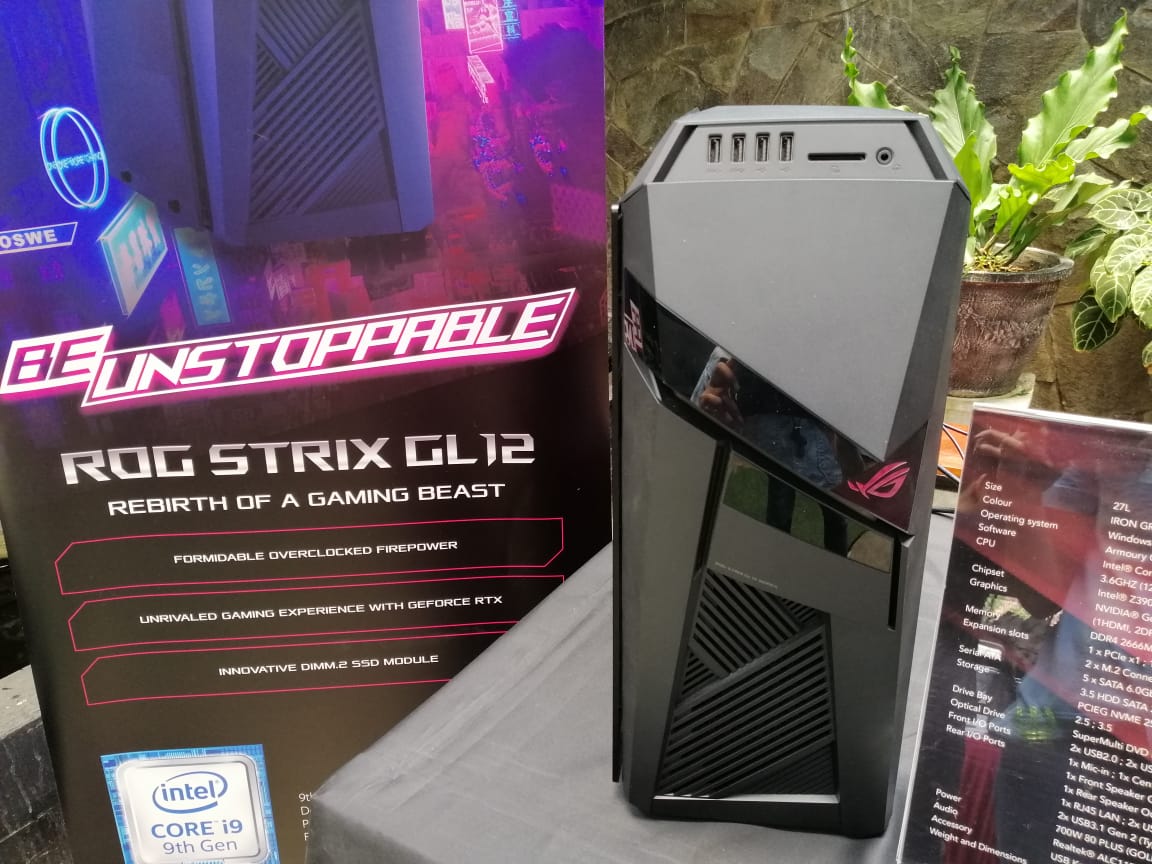 Asus Indonesia baru mulai gencar untuk menyediakan PC gaming prebuilt tahun ini. Firman menyebutkan, alasannya adalah karena sebelum ini, gamer biasanya lebih tertarik untuk membeli laptop. Kini, dengan semakin populernya esports, Asus merasa, permintaan akan desktop gaming juga mulai naik. "Karena para pemain esports butuh tempat untuk latihan. Biasanya, tempat seperti ini, butuh desktop dan bukannya laptop," katanya. Dia menyebutkan, pemain mungkin menggunakan laptop atau merakit PC sendiri di rumah. Namun, cyber cafe biasanya lebih memilih untuk membeli PC prebuilt karena mereka tak mau direpotkan dengan proses perakitan. "Untuk pemain yang suka main di desktop, memang bisa rakit sendiri. Tapi, untuk tempat rental, agak repot kalau mereka harus merakit satu-satu. Lebih baik beli yang sudah jadi."
Pada Maret, Asus membuat ROG Esports Arena bersama penyedia kafe internet Orion. Menurut Firman, ke depan, akan ada semakin banyak esports arena serupa. Seiring dengan pertumbuhan esports, akan ada semakin banyak cyber cafe yang memerlukan PC desktop dengan spesifikasi mumpuni. Dia merasa, cyber cafe akan jadi tempat piliihan bagi para pemain esports yang hendak berlatih atau melakukan latihan tanding karena pemain tidak perlu repot-repot untuk membawa perangkat mereka sendiri. Dan ini, pada akhirnya akan membuat permintaan PC desktop gaming naik. "Mungkin pertumbuhannya tidak semelesat laptop, tapi akan naik," ungkap Firman. Mengingat Asus juga akan diuntungkan dengan keberadaan esports, Firman mengatakan, salah satu hal yang akan mereka lakukan untuk mengembangkan ekosistem adalah membuat lebih banyak internet cafe seperti Orion. "Kita juga akan melakukan roadshow terkait game atau esports," katanya. Tidak tertutup kemungkinan, Asus akan bekerja sama dengan penyelenggara turnamen untuk membuat turnamen atau acara gaming lain di masa depan.
From Our Network