Esports Ecosystem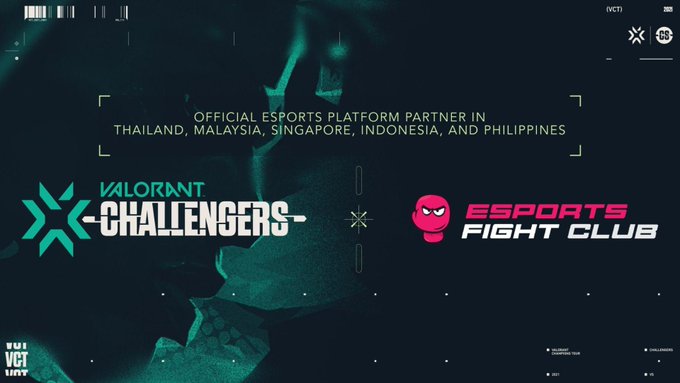 Platform esports resmi VCT 2021 yang mencakup Thailand, Malaysia, Singapura, Indonesia dan Filipina.
Esports Fight Club (EFC) telah mengumumkan kolaborasi dengan VALORANT Champions Tour 2021 (VCT 2021). Sebagai platform organisasi turnamen dan esport yang mendunia, EFC akan meningkatkan pengalaman player maupun viewer pada VALORANT Champions Tour 2021 terutama di wilayah Asia Tenggara.
Untuk mencapai hasil yang maksimal, EFC juga akan bekerjasama dengan beberapa partner resmi yang telah berlisensi, seperti The Gaming Company (Malaysia dan Singapura), Mineski Global (Filipina), ESL Asia (Thailand) dan 1UP Gaming (Indonesia).
.@EsFightClub, a @verasitytech platform, partners with @riotgames 's 2021 VALORANT Champions Tour in Southeast Asia to deliver the ultimate gaming experience.https://t.co/lFZknDVrjn

— Esports Fight Club (@EsFightClub) June 10, 2021
"Kemitraan ini merupakan langkah yang baik untuk industri game. Kami telah bersinergi dan bermitra dengan VCT dan secara bersama-sama kami dapat menjadi batu loncatan dalam industri game dalam bidang teknologi dan adopsi. Kami sangat senang dapat mengambil bagian dalam VCT di Asia Tenggara dan Esports Fight Club akan berfokus untuk memberikan pengalaman interaksi terbaik melalui hadiah dan "Proof of View," ujar Founder dan Chief Executive Officer dari Esports Fight Club dan Verasity, RJ Mark.
Selain memegang penuh manajemen turnamen, EFC juga akan mengeksekusi penyiaran dan konten game VALORANT. Mereka akan memberikan pengalaman terbaik bagi pemain maupun pemirsa regional qualifier VCT 2021, dengan menyiapkan berbagai hadiah menarik, seperti kredit in-game, barang in-game sampai merchandise eksklusif.
As the official esports platform for VCT 2021's regionals, the VALORANT Challengers, we will be producing customised rewards to incentivize viewers and participants to take part in various activities.

➡️https://t.co/G1RqKMKw2H#VCT2021#VALORANTChallengers#VCTMYSG#VALORANTpic.twitter.com/ZgNUEuLfHq

— Esports Fight Club (@EsFightClub) June 17, 2021
VALORANT Champions Tour 2021 merupakan kompetisi terbesar pertama game VALORANT yang diselanggarakan oleh Riot games. VCT akan mengajak seluruh pemain dari berbagai penjuru dunia, untuk saling berkompetisi dan menjadi yang terbaik. VCT 2021 memiliki beberapa jenjang, yang dimulai dari penyisihan  regional yaitu VALORANT Challengers. Para pemenang dari VALORANT Challengers akan diadu kembali di tahap selanjutnya, yaitu VALORANT Masters. Lalu akhirnya, para juara dari VALORANT Masters akan bertanding untuk menjadi juara dunia untuk pertama kalinya di VALORANT Champions.
Pendaftaran VALORANT Challengers Stage 3 akan dibuka pada awal Juli dan akan dimulai pada tanggal 12-22 Agustus 2021. Babak ini akan diikuti oleh 16 tim dari Asia Tenggara, yang meliputi Malaysia, Indonesia, Singapura, Filipina dan Thailand. VCT 2021: Stage 3 nanti akan diadakan secara offline di Berlin, Jerman pada tanggal 9-19 September 2021.
Jangan lewatkan pertandingannya dan juga follow Esportsfightclub.com, serta media sosial dari partner VCT Challengers wilayah Asia Tenggara di:
From Our Network