Esports Ecosystem
Federasi Esports Asia ingin mencari dukungan dari negara-negara Asia Tenggara lainnya
Vietnam akan menjadi tuan rumah dari SEA Games pada 2021. Tadinya, mereka hendak menyelenggarakan pertandingan dari 46 cabang olahraga. Sayangnya, dana untuk pengadaan SEA Games harus dipotong karena pandemi virus corona. Alhasil, mereka hanya akan mengadakan pertandingan dari 36 jenis olahraga. Esports menjadi salah satu olahraga yang ditiadakan.
Pada awal minggu ini, Ketua Komite Olimpiade Filipina (POC), Abraham Tolentino mengatakan, dia akan mengajak negara-negara Asia Tenggara lain untuk meyakinkan Vietnam agar mereka kembali menjadikan esports sebagai cabang olahraga bermedali dalam SEA Games pada tahun depan. Memang, seiring dengan semakin populernya competitive gaming, esports mulai menjadi bagian dari ajang olahraga bergengsi.
Pada Asian Games 2018 yang diadakan di Indonesia, esports diadakan sebagai pertandingan eksibisi. Sementara pada Asian Games 2019 yang diselenggarakan di Filipina, esports menjadi cabang olahraga bermedali. Komite Olimpiade Internasional (IOC) juga mengatakan, esports mungkin akan disertakan dalam Olimpiade, walau esports yang bisa diadakan hanyalah kompetisi dari game simulasi olahraga. Mereka bahkan setuju untuk menampilkan esports sebagai demonstrasi pada Olimpiade Paris 2024.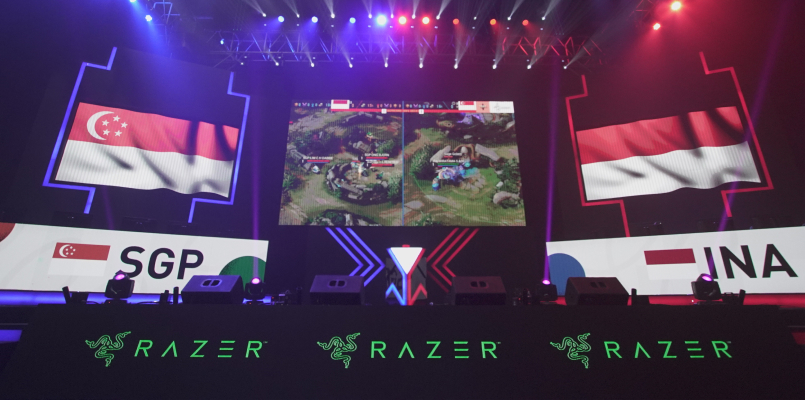 Komite Olimpiade Filipina bukanlah satu-satunya organisasi yang mendukung diselenggarakannya pertandingan esports di SEA Games 2021. Asian Electronic Sports Federation (AESF) juga mendukung disertakannya esports dalam SEA Games tahun depan.
Pada hari Rabu, 15 Juli 2020, AESF Director General Sebastian Lau mengirimkan catatan tertulis pada Ramon Suzara, Presiden dari National Electronic Sports Federation of the Philippines (NESFP). Lau menjelaskan, Vietnam hendak mencoret esports dari daftar olahraga yang diadakan dalam SEA Games dan dia meminta dukungan Suzara untuk meyakinkan Vietnam agar mereka kembali memasukkan esports dalam SEA Games.
"AESF ingin agar federasi-federasi di Asia Tenggara bahu-membahu untuk mendukung program kolaborasi dengan Olimpiade," kata Lau, seperti dikutip dari media Filipina, Tempo. "Untuk mempererat hubungan kita, saya ingin mendorong kalian semua untuk mendukung diadakannya esports sebagai cabang olahraga bermedali pada SEA Games 2021 di Hanoi."
Sementara itu, Suzara berkata, "Dukungan dari AESF merupakan kabar baik untuk esports. Semua negara Asia Tenggara sudah familier dengan esports dan mereka juga akan ingin esports menjadi olahraga yang diselenggarakan di Vietnam pada tahun depan."
Sumber header: The Esports Observer
From Our Network