Esports Ecosystem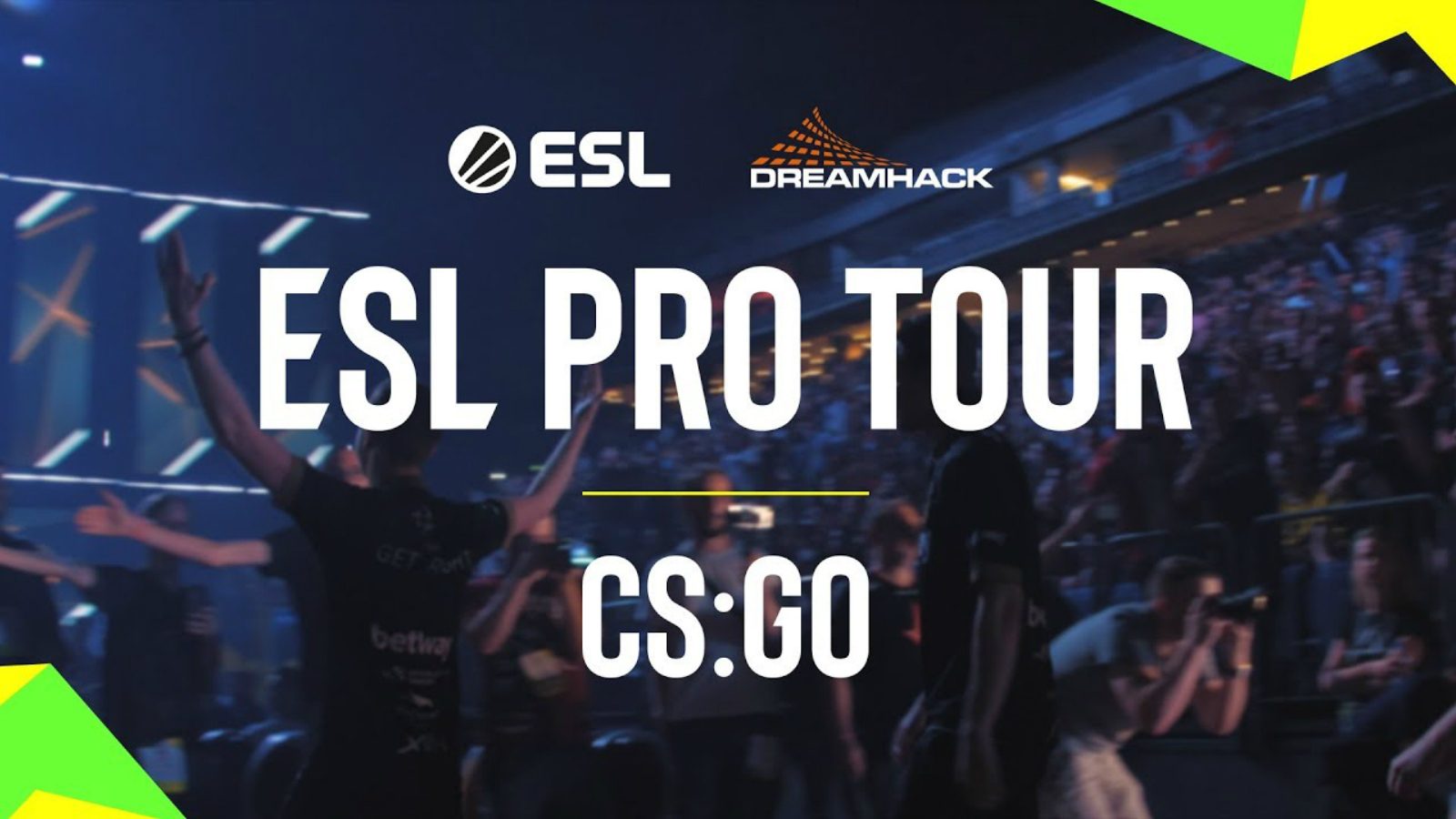 ESL Pro Tour akan menggabungkan lebih dari 20 turnamen yang terbagi dalam 3 kategori
Berbeda dengan Overwatch atau League of Legends, turnamen esports CS:GO tidak menggunakan sistem franchise. Di satu sisi, ini berarti, semua penyelenggara boleh mengadakan turnamen CS:GO. ESL, DreamHack, FACEIT, StarLadder, dan ELEAGUE adalah beberapa penyelenggara yang pernah mengadakan turnamen CS:GO Major. Di sisi lain, banyaknya pihak yang mengadakan turnamen membuat turnamen-turnamen CS:GO menjadi berdiri sendiri. Sekarang, hanya turnamen-turnamen besar saja yang terhubung dengan satu sama lain melalui Intel Grand Slam, yang menawarkan US$1 juta bagi tim yang dapat memenangkan 4 turnamen dalam jangka 10 turnamen berturut-turut.
Inilah yang mendorong ESL dan DreamHack — keduanya berdiri di bawah perusahaan induk Modern Times Group (MTG) — untuk membuat ESL Pro Tour. Liga yang menawarkan hadiah total hadiah US$5 juta itu akan menggabungkan lebih dari 20 turnamen CS:GO yang terbagi ke dalam tiga kelas: Open, Challenger, dan Master. Dalam liga tersebut, akan ada 8 turnamen Challenger, seperti DreamHack Open, Mountain Dew League, dan ESL National dan 10 turnamen Master, termasuk ESL One, Intel Extreme Masters, DreamHack Masters, dan ESL Pro League yang akan diadakan pada tahun depan.
Turnamen kategori Masters biasanya memiliki hadiah setidaknya US$250 ribu per turnamen. Tim yang masuk dalam turnamen-turnamen di bawah ESL Pro Tour akan mendapatkan poin untuk menentukan ranking mereka. Tim-tim dengan posisi teratas akan bisa bertanding di Intel Extreme Masters Katowice yang diadakan setiap Februari dan ESL One Cologne yang diadakan di Juli.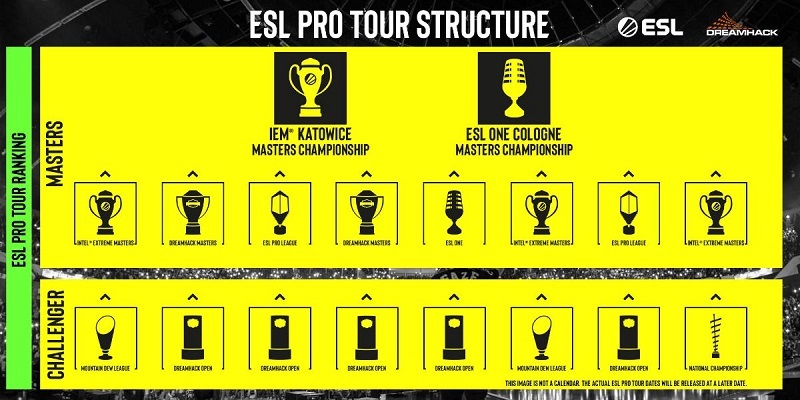 Struktur Pro Tour. Sumber: ESL via The Esports Observer
"Apa yang kami lakukan adalah fokus pada turnamen-turnamen yang kami buat dan mencari satu hal yang bisa menghubungkan semua turnamen itu," kata Chief Product Officer DreamHack, Mike Van Driel, seperti dikutip dari The Esports Observer. Dia meyakinkan, mereka akan memberikan jeda waktu yang cukup antara turnamen Major dalam ESL Pro Tour dan turnamen dari Valve di Katowice dan Cologne. "Tujuan kami adalah untuk memberikan narasi yang lebih baik penonton dan memberikan jalur karir yang lebih baik bagi pemain di masa depan, sesuatu yang sangat penting."
Satu hal yang menarik, tim-tim yang ikut serta dalam turnamen ESL Pro League tidak akan bisa berkompetisi di turnamen lain, menurut informasi yang didapatkan oleh Dexerto. Salah satu syarat untuk ikut dalam Pro League adalah tidak ikut serta dalam turnamen CS:GO lain yang babak kualifikasi hingga babak finalnya terpaut jarak 14 hari, dengan pengecualian turnamen dari Valve. Itu berarti, para tim tidak akan bisa ikut serta dalam turnamen Esports Championship Series (ECS) yang diadakan oleh FACEIT. Tidak hanya itu, para tim dan pemain profesional juga diminta untuk membatasi jumlah hari pertandingan mereka. Kecuali pertandingan resmi dari Valve, kualifikasi online, dan kualifikasi Pro League, para tim profesional diminta untuk tidak bertanding lebih dari 60 hari.
Menurut Dot Esports, sistem turnamen eksklusif ini mungkin akan menimbulkan masalah, terutama bagi tim CS:GO dari negara-negara yang ekosistem esports untuk CS:GO tidak terlalu maju, seperti Brasil dan Australia. Selama ini, tim-tim dari dua kawasan itu bisa menjadi populer berkat babak kualifikasi regional.
One Tour. One Story. One open circuit connecting all of ESL and @DreamHack's competitions. Announcing ESL Pro Tour; our vision for esports.https://t.co/I6324o5cACpic.twitter.com/cCryA0kzlC

— ESL (@ESL) September 3, 2019
Ini bukan kali pertama konsep turnamen eksklusif dicetuskan. Pada 2016, tujuh organisasi esports asal Amerika Utara membentuk Professional Esports Association (PEA) dengan tujuan untuk membuat liga Counter-Strike eksklusif. Tujuh tim tersebut adalah Cloud9, Clomplexity Gaming, Counter Logic Gaming, Immortals, NRG Esports, Team Liquid, dan Team SoloMid. Ketika itu, tujuan mereka adalah untuk meningkatkan pendapatan mereka. Karena tim profesional mendapatkan porsi pendapatan yang lebih besar dari ECS, mereka ingin berhenti turun dalam turnamen ESL. Beberapa minggu kemudian, para pemain mengajukan protes dan rencana PEA untuk membuat turnamen eksklusif pun harus ditunda. Kejadian ini juga yang mendorong dibentuknya Counter-Strike Professional Players Association (CSPPA).
Nikolaj Nyholm, CEO Astralis, salah satu tim CS:GO terbaik, mengatakan, tim Astralis tidak akan berpartisipasi dalam liga yang tidak melibatkan CSPPA sebagai representasi pemain profesional.
Sumber: The Esports Observer, ESPN, Dot Esports, Dexerto
From Our Network