Mobile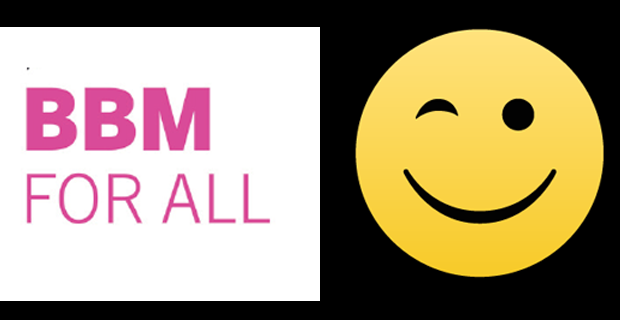 Akhirnya, kepastian untuk peluncuran BBM lintas platform atau BBM untuk pengguna Android dan iPhone telah diumumkan. Lewat blog resmi, BlackBerry menginformasikan perkembangan terbaru serta detail rilis.
Diinformasikan bahwa dalam beberapa jam, BBM untuk Android dan iPhone akan mulai tersedia di Play Store serta App Store, serta beberapa toko aplikasi Samsung terpilih. Aplikasi BBM ini akan tersedia secara gratis. (Update: BBM sudah tersedia di Play Store dan Google Play Store, cek info di bagian bawah).
Seperti yang telah diketahui, BBM untuk Android dan iPhone ini seharusnya telah dirilis sejak 21 September lalu untuk yang Android dan 22 September untuk iPhone, namun akhirnya ditunda karena permasalahan aplikasi versi tidak resmi yang banyak diunduh sebelum yang resmi tersedia di toko aplikasi.
Sejak saat itu kepastian rilis ulang BBM masih simpang siur, sampai akhirnya perkembangan terbaru menjelaskan semuanya. Meski demikian, ada mekanisme tersendiri untuk rilis ulang BBM ini. BlackBerry akan menerapkan sistem antrian. Mereka yang bisa menggunakan langsung ketika BBM telah tersedia di Play Store dan App Store adalah mereka yang sebelumnya telah mendaftarkan diri di BBM.com. Untuk mereka yang belum terdaftar akan masuk ke sistem antrian.
Berikut penjelasan BlackBerry:
BBM Roll Out Details:

Download BBM – the easiest way is to visit BBM.com from your Android or iPhone browser*
Once you install the app, open it, and enter your email address to hold your spot in line
We will email you as soon as you reach the front of the line and can start using BBM

If you are among the millions that took the time to sign up at BBM.com, you can start using BBM immediately without waiting in line.* If you didn't sign up in advance, don't worry – we are focused on moving millions of customers through the line as fast as possible.

*Samsung customers in Sub-Sahara Africa can download BBM today from the Samsung Apps store. iPhone and other Android users in Africa will be able to download the app in three days' time.
BlackBerry juga menjelaskan bahwa besok mereka akan merilis lagi blog post yang akan menjelaskan tentang detail lainnya termasuk perkembangan apa yang terjadi selama masa penundaan BBM untuk lintas platform ini.
Tidak ada penjelasan berapa jam BBM akan mulai tersedia di masing-masing toko aplikasi, BlackBerry hanya menyebutkan beberapa jam ke depan. Jadi cek terus Google Play dan App Store, atau untuk mengikuti perkembangan langsung dari BlackBerry bisa follow akun @BBM.
Update: BBM untuk Android dan iOS telah tersedia. Halaman BBM.com telah berubah, menampilkan tautan untuk BBM Android dan iOS.
Update 2: Sesuai dengan pengumuman yang BlackBerry sebutkan di atas, saya sarankan untuk mengakses BBM.com lewat peramban mobile perangkat Android dan iPhone Anda. Saya sendiri telah mencobanya dengan Google Chrome lewat perangkat iPhone dan Android, setelah mengetikkan alamat BBM.com maka akan langsung diarahkan ke toko aplikasi masing-masing. Berbeda ketika mencoba mencari tautan BBM untuk Android lewat peramban desktop, tautan ke toko Play Store tidak ada.
Via CrackBerry. 
Koreksi: perbaikan judul.