Esports Ecosystem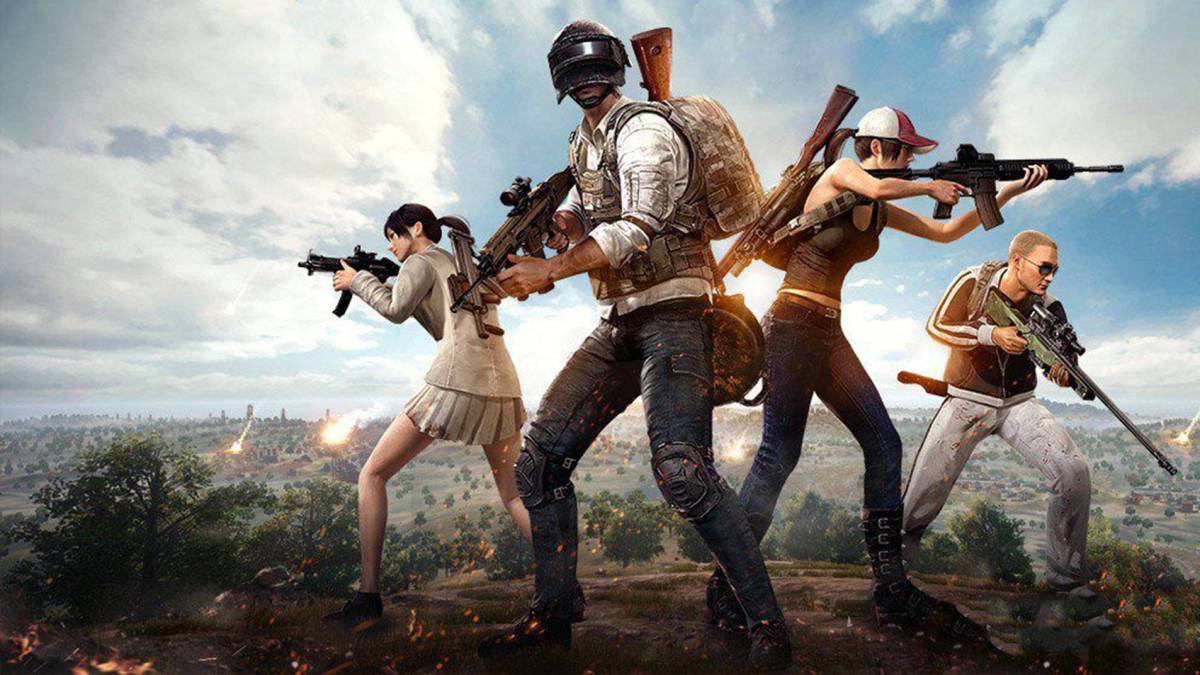 PUBG Mobile menjadi game dengan pendapatan terbanyak dan total download terbanyak kedua
PUBG Mobile dari Tencent menjadi mobile game dengan pendapatan terbesar pada Mei 2020, menurut data dari Sensor Tower. Dalam satu bulan, game tersebut mendapatkan US$226 juta. Pemasukan PUBG Mobile naik 41 persen jika dibandingkan dengan Mei 2019. Tak hanya itu, PUBG Mobile juga menjadi game yang paling banyak diunduh ke-2 dengan total install mencapai 34,2 juta. Total install PUBG Mobile pada Mei 2020 naik 91 persen dari bulan yang sama pada 2019. India memberikan kontribusi paling besar, yaitu sebesar 35,8 persen dari total install, diikuti oleh Mesir dengan kontribusi 7,2 persen dari total install.
Sementara itu, game dengan pemasukan terbanyak ke-2 adalah Honor of Kings alias Arena of Valor. Game dari Tencent itu mendapatkan US$204,5 juta sepanjang Mei 2020, naik 42 persen dari Mei 2019. Namun, sekitar 95 persen dari total pemasukan Arena of Valor berasal dari Tiongkok. Dalam daftar 10 game dengan pemasukan terbesar, Roblox dari Roblox Corporation duduk di posisi ke-3, diikuti oleh Monster Strike dari Mixi, dan Coin Master dari Moon Active.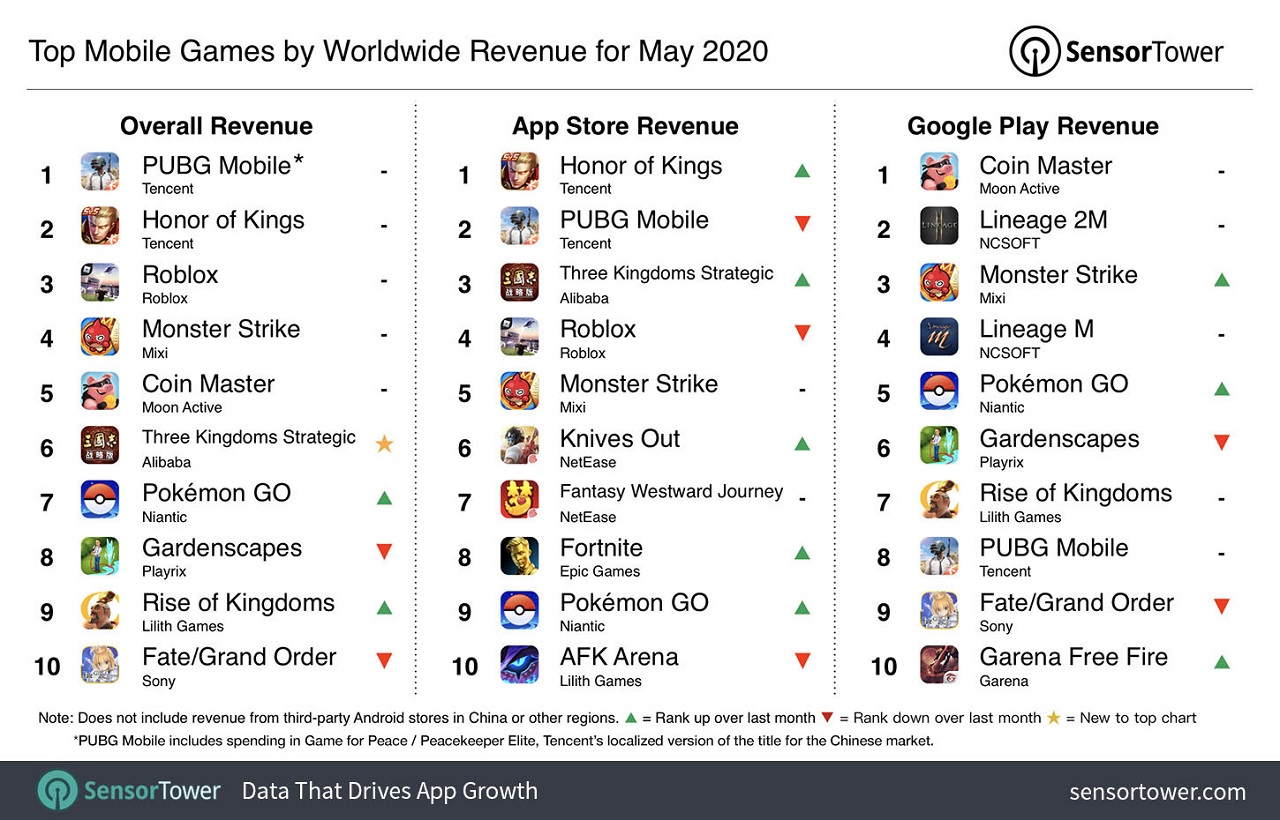 Coin Master juga berhasil masuk dalam daftar 10 game yang paling banyak diunduh pada bulan lalu. Sebagian besar pemasukan yang didapatkan oleh game ini berasal dari pengguna Android. Namun, jumlah download dari App Store juga menunjukkan kenaikan sejak Januari 2020. Pada Mei 2020, total pemain Coin Master di iPhone mencapai 5 juta, yang merupakan rekor. Hal ini membuktikan bahwa Moon Active secara aktif mengakuisi pemain dari pengguna iPhone.
Dari segi total dowload, ASMR Slicing dari Crazy Labs menjadi game yang paling banyak diunduh sepanjang Mei 2020. Dalam satu bulan, game itu diunduh sebanyak 36,5 juta kali. Amerika Serikat memberikan kontribusi terbesar dengan 12 persen dari total download, diikuti oleh Brasil pada 9,6 persen dari total download. Game yang duduk di peringkat ke-3 dalam daftar 10 mobile game paling banyak diunduh adalah Free Fire dari Garena, diikuti oleh Save The Girl dari Lion Studios, dan Gardenscapes dari Playrix.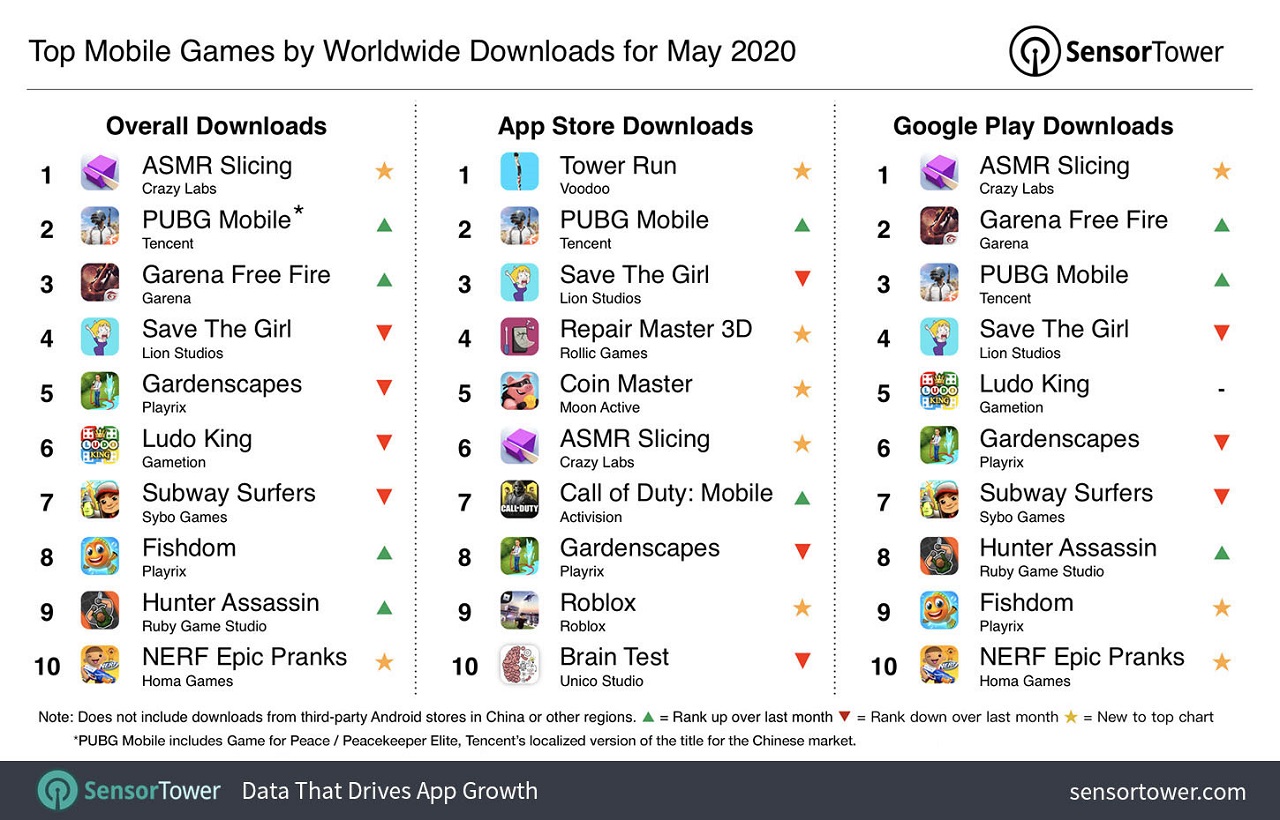 Sementara itu, Pokemon Go dari Niantic mendapatkan total pemasukan sebesar US$82,2 juta pada Mei 2020, naik 45,5 persen jika dibandingkan dengan periode yang sama pada 2019. Angka ini adalah rekor pemasukan terbesar Pokemon Go sejak September 2019. Keuntungan yang didapatkan oleh Niantic dari Pokemon Go kembali naik karena mulai banyak negara yang menghentikan lockdown. Namun, Niantic juga telah melakukan beberapa perubahan pada Pokemon Go sehingga game itu tetap bisa dimainkan di rumah.
From Our Network