Esports Ecosystem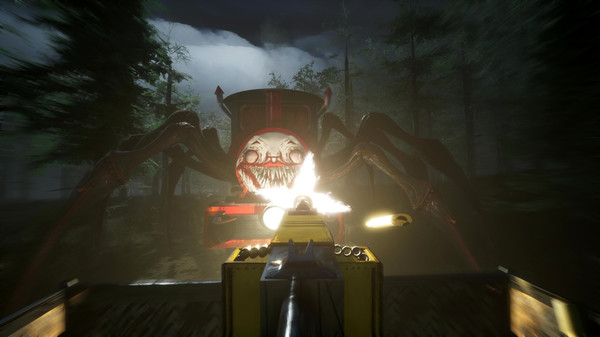 Bukan zombie atau alien, namun bertahan hidup dari makhluk kombinasi antara lokomotif dan laba-laba?
Sebuah game horror menarik baru saja diumumkan tanggal 2 Oktober lalu. Sudah banyak game horror dengan map open world, seperti Days Gone, Dying Light, atau The Evil Within 2, namun belum ada game seabsurd ini.
Berbeda dengan game horror kebanyakan, yang menggunakan makhluk halus, zombie, atau makhluk luar angkasa, game ini menghadirkan sebuah makhluk dengan kaki laba-laba dan berbadan lokomotif, yang bisa berjalan dengan super cepat.
Two Star Games, selaku developer, telah merilis trailer yang menunjukkan sedikit gameplay dan visual dari game terbaru mereka, Choo-Choo Charles.
Sinopsis resmi dari Choo-Choo Charles adalah sebagai berikut:
Di Choo-Choo Charles, pemain akan bertugas untuk membasmi sebuah monster yang diberi nama "Charles" oleh warga setempat. Tidak ada yang tahu dari mana makhluk tersebut berasal, namun satu hal yang pasti, Charles akan memangsa tubuh manusia malang yang ia temukan.
Pemain akan menggunakan sebuah kereta api tua berwarna kuning yang dilengkapi dengan sebuah peta, sebuah senapan mesin, dan sejumlah bobble-heads di atas dasbor.
Pemain akan menggunakan kereta tersebut untuk berkelana ke berbagai tempat, sembari menyelesaikan misi untuk warga setempat, atau bisa mengambil rongsokan di lingkungan sekitar.
Seiring berjalannya waktu, pemain akan menggunakan rongsokan tersebut untuk meng-upgrade kecepatan, ketahanan, dan damage dari kereta api mereka. Pemain akan mengembangkan peralatannya dan (semoga saja) mengalahkan Charles.
A horror game where you navigate an island in an old train, upgrade it over time, and use it to fight an evil spider train named Charles. Here's the first trailer! (Steam link in comments) #Halloween#Horror#IndieGames#HorrorGamespic.twitter.com/Ug5GHIwXRm

— Two Star Games (@TwoStarGames) October 1, 2021
Trailer game unik ini menuai respon positif dari para gamers. Pasalnya, hanya dalam kurun waktu 2 hari saja, pengumuman game-nya di Twitter telah disukai lebih dari 50 ribu kali, dengan ribuan retweet dan komentar. Ditambah lagi, pengumuman ini berdekatan dengan nuansa Halloween di bulan Oktober yang menambah hype-nya.
Two Star Games merupakan sebuah developer indie game, yang berfokus kepada pembuatan game horror dengan nuansa artistik dan atmosfer mencekam. Game yang telah mereka hasilkan sebelumnya adalah My Beautiful Paper Smile dan My Friend is a Raven.
Choo-Choo Charles direncanakan akan rilis pada awal tahun 2022 dan detailnya sudah dapat dilihat via Steam.
Di sisi lain, pernahkah Anda bertanya-tanya kenapa kita suka dengan game horor dan suka ditakut-takuti? Kami sempat menuliskan artikelnya beberapa waktu silam.
From Our Network