Esports Ecosystem
Chimera Squad bukan hanya digarap buat para fans XCOM, namun juga diracik sebagai gerbang masuk bagi pendatang baru ke franchise ini.
Kesuksesan reboot XCOM memicu lahirnya rentetan permainan strategi turn-based generasi baru, contohnya Phoenix Point, Mutant Year Zero, Phantom Doctrine hingga Battletech. Tapi sejauh ini, game yang betul-betul layak jadi penerusnya hanyalah XCOM 2. Banyak fans berharap agar Gears Tactics betul-betul mengesankan seperti janji Xbox Game Studios, namun kabar baiknya, kita juga mendapatkan satu alternatif lagi.
Secara tiba-tiba, Firaxis mengumumkan 'babak selanjutnya' dari seri XCOM yang mereka namai Chimera Squad. Konsepnya cukup menarik karena XCOM: Chimera Squad bukanlah sekuel ataupun expansion pack. Ia merupakan spin-off sekaligus penerus kisah XCOM 2. Chimera Squad bukan hanya digarap buat para fans XCOM, namun juga diracik sebagai gerbang masuk bagi pendatang baru ke franchise ini.
Ketika dua game XCOM sebelumnya difokuskan pada perjuangan manusia melawan penindasan alien, latar belakang Chimera Squad sedikit berbeda. Lima tahun telah berlalu setelah pemerintah bayangan Advent berhasil ditumbangkan, dan manusia serta alien akhirnya dapat hidup harmonis. Kini mereka harus membangun ulang peradaban yang sebelumnya berantakan akibat konflik. Chimera Squad ialah nama dari pasukan khusus antar-spesies penjaga keamanan Kota 31.
Di XCOM: Chimera Squad, pemain akan mengendalikan dan mengelola tim berisi 11 agen (semuanya didesain oleh Firaxis). Game tetap mempertahankan formula strategi turn-based khas XCOM, namun ada banyak hal yang dimodifikasi developer. Perbedaan karakteristik, latar belakang, serta kemampuan unik masing-masing agen sengaja diusung untuk memberi warna pada tim. Pendekatan ini kabarnya terinspirasi dari expansion pack XCOM 2: War of the Chosen.
Sejumlah perubahan lain juga lebih fundamental. Ketika misi dimulai, pemain dipersilakan memilih lokasi penerjunan pasukan – developer menyebutnya Breach Mode. Beberapa tempat bisa diinfiltrasi oleh agen tertentu, dan tiap pilihan punya keuntungan dan kekurangannya sendiri. Perbedaan selanjutnya terletak pada bagaimana turn diterapkan. Sewaktu perintah dieksekusi, agen Chimera dan pasukan musuh akan beraksi bersama-sama; tidak bergantian seperti sebelumnya.
Dan karena tiap anggota Chimera Squad merupakan bagian dari narasi permainan (mereka akan berinteraksi dengan sesamanya), Firaxis juga menghilangkan sistem permadeath (kematian permanen). Saat seorang agen tumbang di tengah misi, rekannya harus menstabilkan kondisinya. Jika gagal, misi tersebut akan gagal. Kondisi ini berbeda dari game sebelumnya, ketika misi bisa diselesaikan meski hanya tersisa satu orang di tim Anda.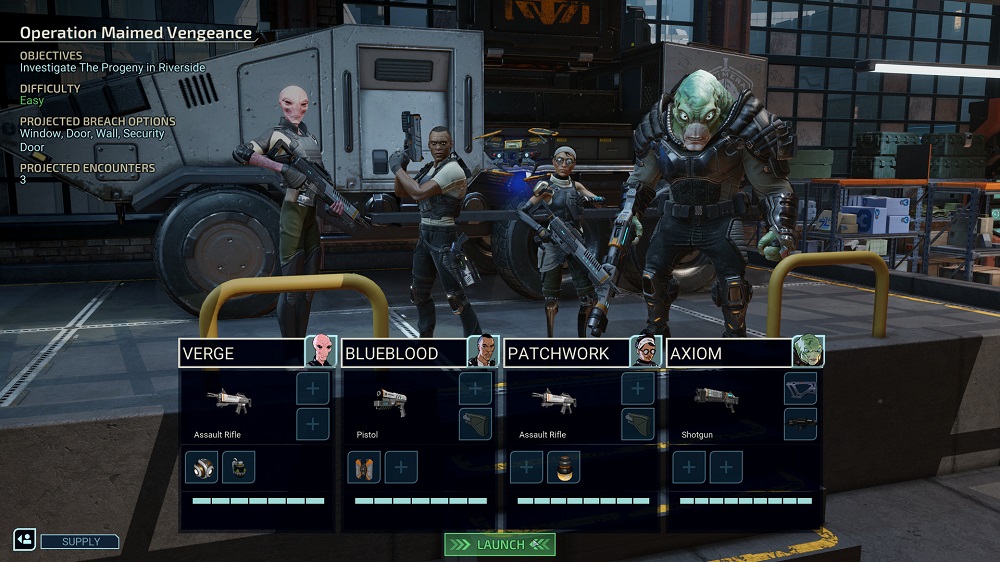 Hal menarik lain dari Chimera Squad adalah cara 2K Games menyajikannya. Terlepas dari kontennya yang orisinal, permainan dijajakan di harga expansion pack. Saat dirilis di tanggal 24 April nanti, Anda bisa memilikinya cukup dengan mengeluarkan uang Rp 105 ribu. Harganya akan naik jadi Rp 210 ribu di tanggal 2 Mei 2020. Buat sekarang, game baru tersedia untuk Windows PC via Steam.
Via US Gamer.
From Our Network