Esports Ecosystem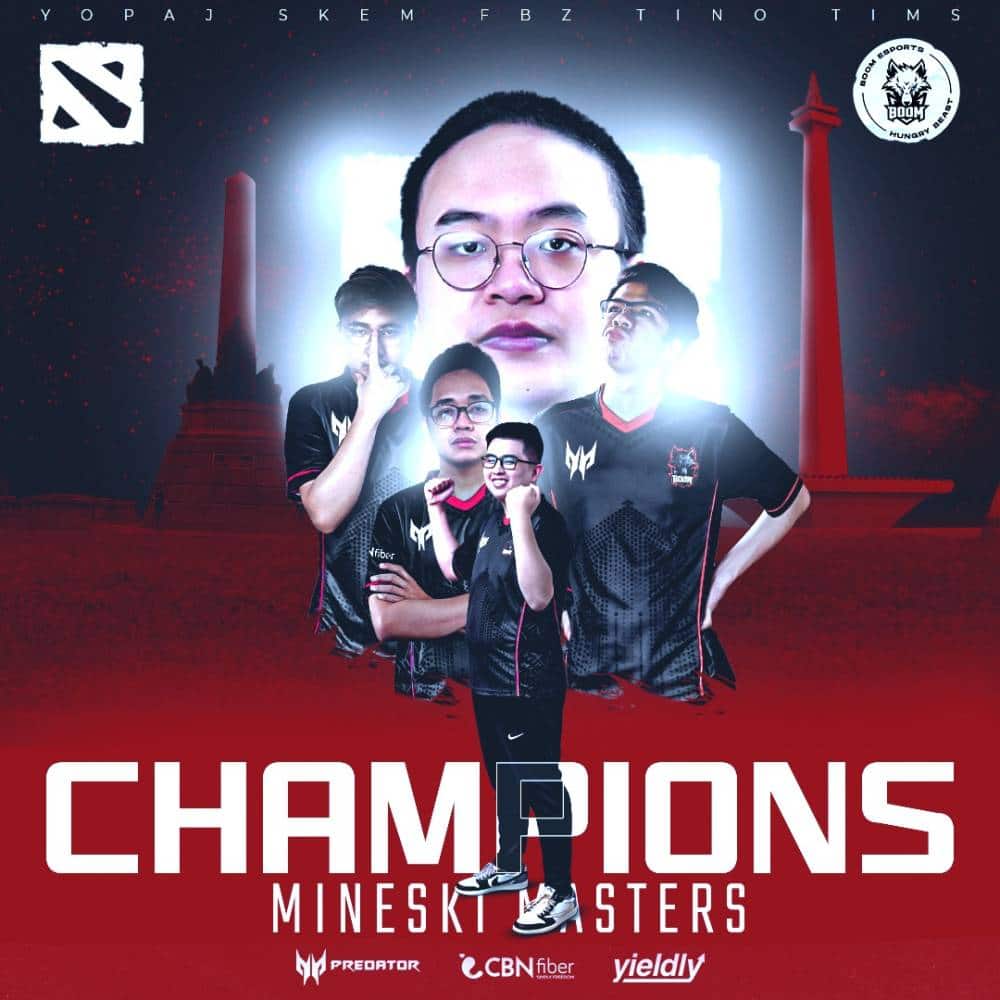 Meskipun sempat tertinggal di 2 game awal, namun BOOM Esports mampu bangkit dan mengunci kemenangan.
Satu lagi gelar juara yang berhasil diraih oleh tim Dota 2 BOOM Esports. Kali ini mereka berhasil menjuarai turnamen Mineski Masters. Turnamen yang menjadi ajang pemanasan sebelum bergulirnya DPC musim 2022 tersebut digelar pada 25 hingga 28 November 2021 kemarin dan memperebutkan total hadiah sebesar ₱1.000.000 atau sekitar Rp285 juta. Turnamen Mineski Masters sendiri merupakan turnamen komunitas yang digelar oleh organisasi esports asal Filipina yakni Mineski.
BOOM Esports bersaing dalam Mineski Masters ini dengan 7 tim Dota 2 Asia Tenggara lainnya yang diundang untuk mengikuti turnamen. Tim-tim kuat seperti TNC Predator, OB.Neon, Motivate.Trust Gaming, dan Execration mengikuti turnamen ini. BOOM Esports tampil tanpa celah dan lolos ke partai final dengan 3 kali kemenangan langsung atas InterActive Philippines, OB.Neon, dan UD Vessuwan. Hingga akhirnya Fbz dan kawan-kawan bertemu dengan Motivate.Trust Gaming di final.
Pada pertandingan final ini BOOM Esports dibuat kewalahan. Tim asal Thailand tersebut berhasil mengungguli BOOM Esports di 2 game awal dan hanya membutuhkan 1 kali kemenangan lagi untuk menjadi juara. Untungnya, BOOM Esports mampu bangkit dari ketertinggalan dan memaksa Motivate.Trust Gaming terkena "reverse sweep" alias "comeback". BOOM Esports memenangkan 3 game selanjutnya dan mengakhiri pertandingan dengan skor akhir 3-2.
HATTRICK
An amazing tournament, and what a reverse sweep!!

Thank you so much #HungryBeasts for supporting us in the tournament! Onward to DPC SEA Tour Season 1! pic.twitter.com/LRl3P292Sr

— BOOM Esports (@boomesportsid) November 28, 2021
Kemenangan yang diraih oleh BOOM Esports dalam Mineski Masters ini menjadi modal berharga bagi tim dalam memulai musim baru DPC 2021/22. Squad baru BOOM Esports yang kini didominasi oleh pemain asal Filipina berhasil menjuarai 3 turnamen dari 4 turnamen yang mereka ikuti. Ketiga turnamen tersebut antara lain Mineski Master, BTS Pro Series Season 9: Southeast Asia, dan BTS Pro Series Season 8: Southeast Asia.
BOOM Esports sendiri saat ini tergabung dalam DPC SEA 2021/22 Tour 1: Division I bersama tim-tim kuat Dota 2 Asia Tenggara lainnya. DPC SEA 2021/22 Tour 1: Division I sendiri baru akan dimulai pada 1 Desember 2021 hingga 22 Januari 2022 dan memperebutkan total hadiah sebesar US$205.000 atau sekitar Rp3 miliar dan 3 slot menuju turnamen Major Dota 2.