Esports Ecosystem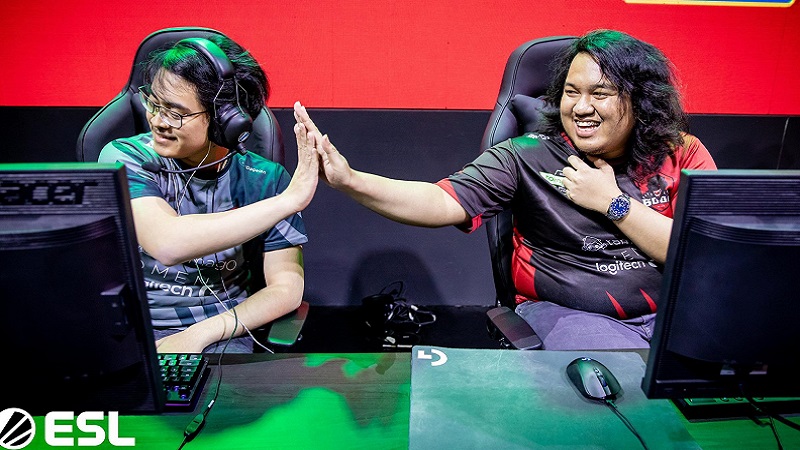 BOOM Esports juara ESL SEA Championship, setelah tanding sengit lawan Geek Fam. Kedua tim saling memaksa pertarungan durasi panjang yang menegangkan.
Tim Dota BOOM Esports sepertinya sedang dalam semangat penuh belakangan ini. Pekan lalu mereka mendapatkan hasil positif di laga perdana BTS Pro Series. Akhir pekan ini, mereka bertanding dalam laga final ESL SEA Championship, dan boyong gelar juara setelah kalahkan Geek Fam 3-2.
Pada laga Final, BOOM Esports bertanding dalam seri Best-of-5 yang sangat ketat, terutama pada game awal. Game pertama, BOOM Esports sempat keteteran. Berusaha melawan sekuat tenaga, tetapi Geek Fam menunjukkan performa yang lebih solid. Pertandingan jadi tarik ulur, BOOM Esports bahkan sempat mencuri barak di menit late-game. Tapi akhirnya tersapu bersih dengan tanpa persediaan buyback membuat BOOM Esports terpaksa ketik GG di menit 52.
Game kedua giliran BOOM Esports yang tunjukkan permainan lebih gemilang. Seperti game sebelumnya, pertarungan antara Randy Sapoetra (Dreamocel) dengan Marc Polo Luis Fausto (Raven) berjalan dengan teramat sengit. Ini membuat durasi pertandingan jadi molor lebih lama lagi.
Bahkan sampai menit 55, keadaan masih imbang walau BOOM Esports unggul skor kill 33-23. Akhirnya, keadaan game satu terulang, dengan Geek Fam yang kini jadi korban. Mereka dipukul rata, tak punya buyback, durasi respawn mencapai 2 menit, membuat Carlo Palad (Kuku) dan kawan-kawan jadi ketik GG di menit 71.
Perjalanan bagi BOOM Esports terlihat cukup mulus di pertandingan berikutnya, berasil menang dengan durasi yang cukup singkat. Tapi Geek Fam melawan balik di game 4, memaksa adanya game kelima dalam seri ini.
Pada pertandingan penentuan, Rafli Fathur Rahman (Mikoto) menggila dengan menggunakan salah satu keluarga hero Spirits yang kerap jadi andalannya, kali ini dia pakai Inai sang Void Spirits.
Berkali-kali Mikoto menculik pemain support Geek Fam yang sedang lengah, membuat Geek Fam kesulitan dalam membuka pertarungan skala besar. Akhirnya Geek Fam tertunduk kalah di menit 30, setelah mereka sudah benar-benar tak lagi punya asa untuk melawan.
We are your @ESL_Asia champions
GGWP to @TeamGeekFam

Thank you for the support from you hungrybeasts all over the world#HungryBeastpic.twitter.com/H8WAa33XcH

— BOOM Esports (@boomesportsid) April 19, 2020
Dengan kemenangan ini, BOOM Esports berhak mendapatkan hadiah uang sebesar US$8000 (sekitar Rp123 juta), dan juga kesempatan bertanding di ESL One Birmingham 2020 – Online: SEA. Untuk saat ini tim Dota BOOM Esports juga masih bertanding di dalam gelaran BTS Pro Series: SEA, dengan sisa dua pertandingan untuk babak grup.
Mari kita doakan yang terbaik, agar tim Dota BOOM Esports bisa mendapatkan hasil yang terbaik di berbagai kompetisi online yang sedang berjalan!
From Our Network