Esports Ecosystem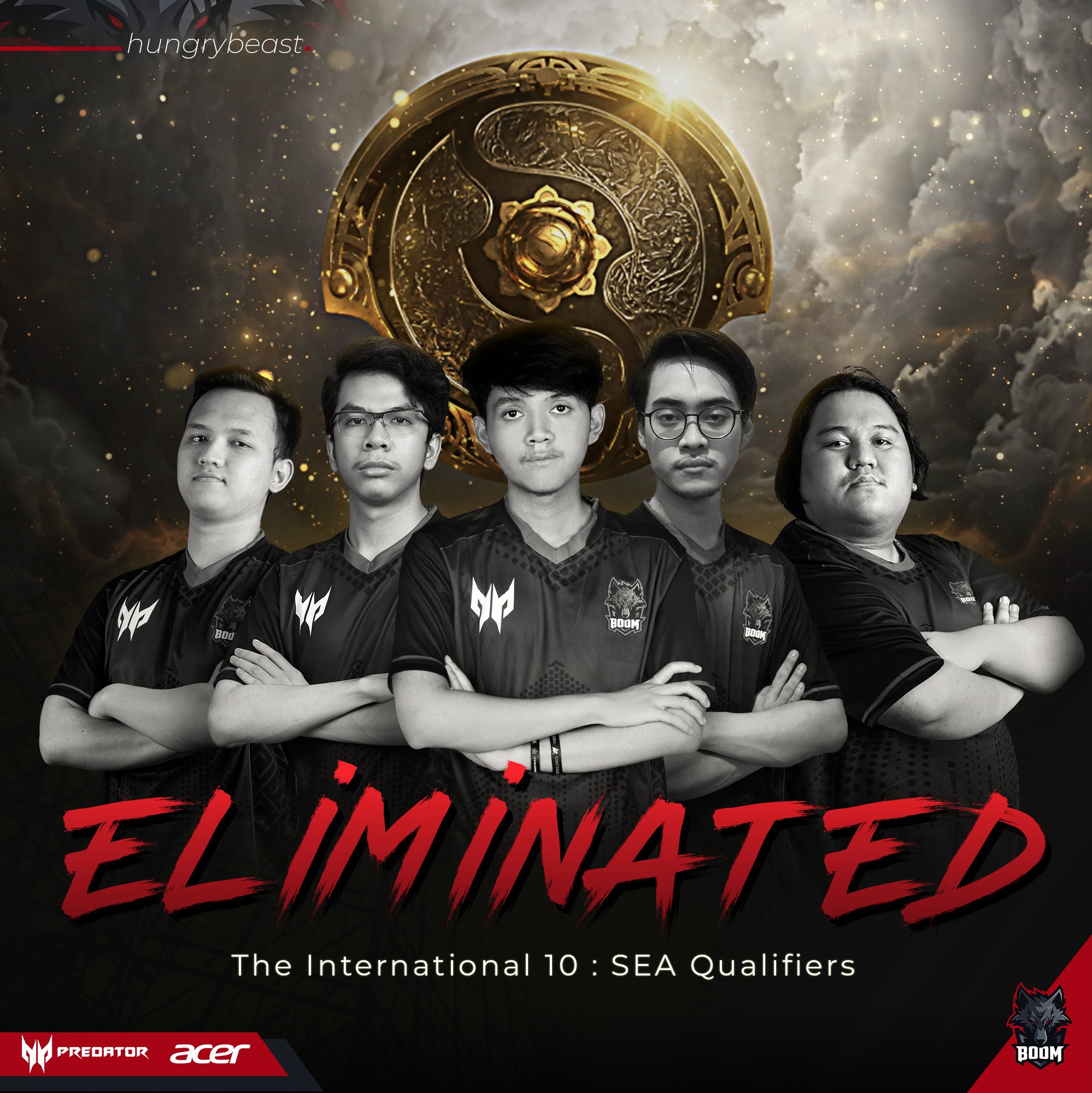 Laju mereka terhenti setelah ditaklukkan oleh TNC Predator dengan skor 2-1.
Setelah beberapa hari berjuang untuk lolos ke The International 10 (TI 10), langkah BOOM Esports akhirnya berhenti. Mereka terpaksa melepaskan mimpi mereka untuk berangkat ke The International tahun ini setelah dikalahkan TNC Predator pada babak Lower Bracket Final dengan skor 2-1.
Our journey in the TI10 Qualifiers has come to an end. A heartfelt thanks to all our HungryBeast fellows who have been faithfully supporting us till now.

Great series @TNCPredator & Good Luck ahead pic.twitter.com/XhD2Q7h3FP

— BOOM Esports (@boomesportsid) July 3, 2021

Sebelum gugur, BOOM Esports sempat bertemu dengan TNC Predator di babak Upper Bracket Round 2. Di match tersebut, TNC Predator berhasil mengalahkan BOOM Esports dengan skor 2-1 juga.
Walau demikian, kemenangan yang didapatkan oleh TNC Predator di pertandingan itu bukanlah hal yang mudah. Pada game ketiga, TNC Predator nyaris kalah setelah mereka kehilangan semua barrack dan harus menghadapi mega creep. Namun mereka mampu melihat celah, setelah Hero mid player BOOM Esports, Mikoto, harus mati untuk mendapatkan barrack terakhir. Dengan informasi tersebut, TNC Predator mencoba untuk melakukan push dan ternyata berhasil memenangkan game tersebut. Pertandingan itu berjalan selama 75 menit.
Setelah itu, BOOM Esports harus melanjutkan perjalanan mereka melalui lower bracket. Mereka mengalahkan Galaxy Racer dengan skor 2-1 dan Execration dengan skor 2-0. Dan pada akhirnya, terjadilah rematch antara BOOM Esports dan TNC Predator.
Di match tersebut, BOOM Esports telah menyiapkan draft Hero untuk menghadapi TNC Predator. Jika TNC Predator memainkan Terrorblade pada pertemuan mereka yang sebelumnya, kali ini BOOM Esports lah yang mengambil Terrorblade di game pertama dan kedua. Lalu di game ketiga, untuk pertama kalinya di sepanjang qualifier, BOOM Esports memainkan Phantom Lancer.
.@TNCPredator are #TI10 SEA qualifier Grand Finalists! 🥳

They take the series 2-1 and win the right to fight for the ONE and only TI spot!

📺https://t.co/VZnt4kO1Z3
🗣️ @MLPDotA & @johnxfirepic.twitter.com/srsaRiDgtY

— BTS Dota (@BTSdota) July 3, 2021

Pada fase early game, BOOM Esports sempat tertinggal, namun mereka mampu mengejar ketinggalan. Seiring berjalannya pertandingan, terjadi beberapa clash, yang didominasi oleh TNC Predator. Puncak pertandingan terletak pada clash terakhir di depan Roshan di sekitar menit 62. Di awal pertarungan, BOOM Esports berhasil menangkap beberapa Hero TNC Predator. Namun TNC Predator melakukan buyback dan mampu menyapu bersih semua Hero dari BOOM Esports.
Banyak fans, terutama fans Dota 2 di Indonesia, yang kecewa atas kekalahan BOOM Esports. Namun perlu diingat bahwa qualifier untuk wilayah Asia Tenggara kali ini diisi oleh banyak tim kuat, seperti Fnatic, TNC Predator dan OB Esports x Neon yang gagal lolos ke The International melalui jalur DPC.
Terima kasih BOOM Esports atas perjuangannya. Semoga Boom Esports bisa mendapatkan hasil yang lebih baik pada musim selanjutnya.
From Our Network