Esports Ecosystem
Karena kemenangan mereka sampai 5 kali berturut-turut.
Perkembangan salah satu tim Asia Tenggara asal Indonesia, BOOM Esports di divisi Dota 2 memang sangat pesat di akhir tahun 2021 hingga saat ini. Setelah kemarin mengalahkan TNC Predator di DPC dengan skor 2-0, BOOM kini sukses mengamankan slot Major DPC mendatang.
Benar, BOOM Esports merupakan tim yang didirkan di Indonesia sendiri sudah aktif bermain sejak tahun 2016 — meski divisi Dota 2 nya baru dibentuk pada 2017. Sempat konsisten menggunakan pemain full Indonesia di divisi Dota 2, kini tim BOOM mulai beralih dengan roster Filipina.
Hasilnya pun menuju ke arah yang positif mengingat BOOM Esports sukses menjuarai gelaran BTS Pro Series Season 8 dan Season 9 setelah berganti ke roster Filipina. Dengan kemenangan 5 kali berturut-turut di DPC musim ini, BOOM Esports sukses mengamankan tiket menuju ajang Major DPC.
Kekalahan TNC Pastikan Tiket Major Untuk BOOM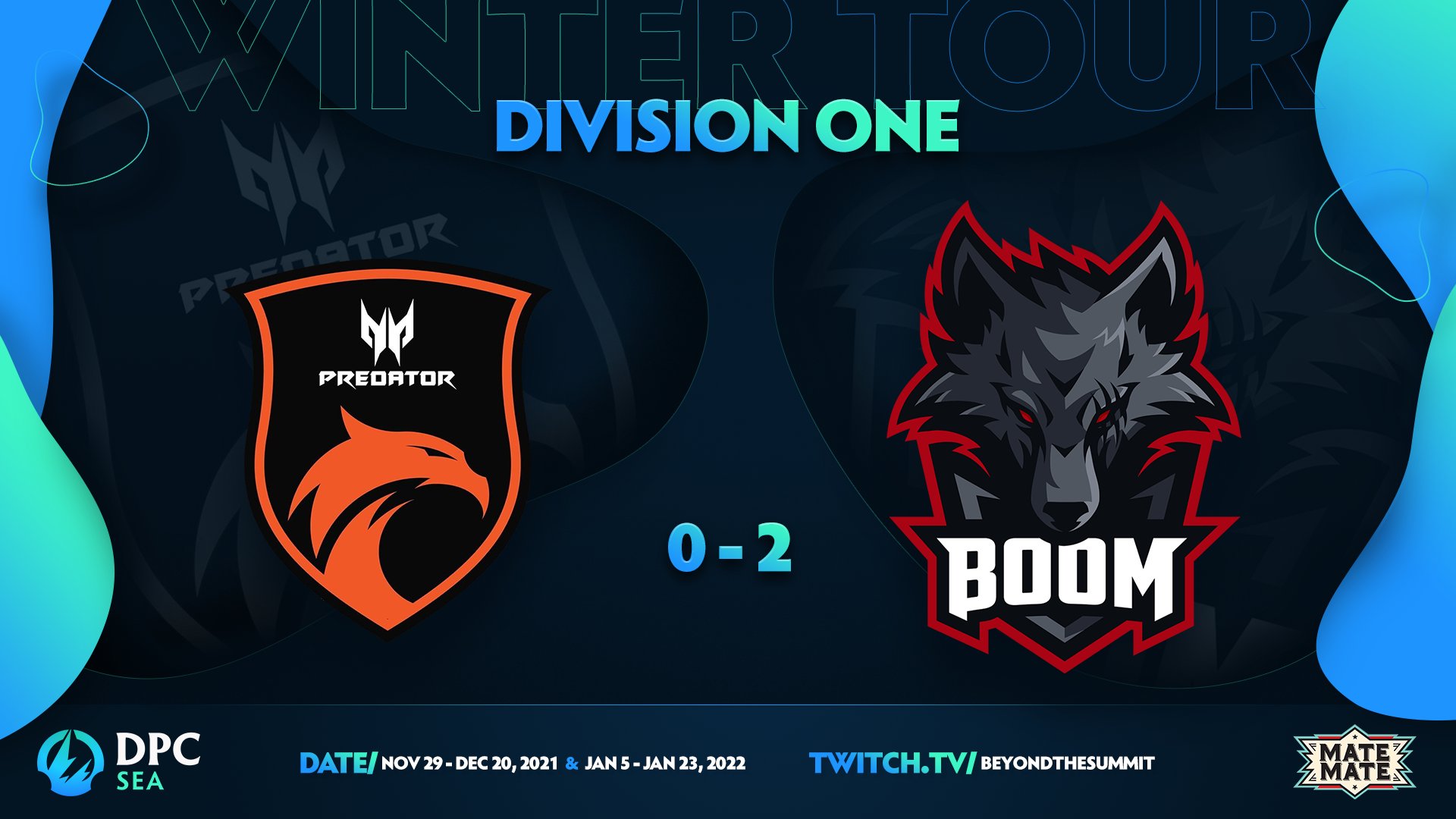 Pada pertandingan pertama, TNC Predator bermain cukup agresif, namun Yopaj sangat lihai menggunakan Ember Spirit. Kemampuannya dalam menghindari tekanan dan serangan menjadi semakin sulit bagi TNC pada akhir pertandingan.
Apalagi saat Yopaj memiliki Aghanim Spectre dan Refresher Orb. Aksinya sebagai perusak strategi, ujung tombak, hingga inisiator berjalan sangat baik.
THIS GAME!! 😱

📺 https://t.co/LoZdmrZ4QIpic.twitter.com/Oa8CmzYEgl

— SEA DPC League (@SEADPCLeague) January 8, 2022
Bahkan Yopaj melakukannya di hadapan hero-hero counter dari Ember Spirit seperti Nyx Assasin, Bane, dan Mars. Dominasi dari BOOM Esports berjalan konsisten hingga mampu mengamankan kemenangan pertama.
Pada pertandingan kedua, lagi-lagi Yopaj mampu sukses mengambil Ember Spirit. Meski begitu, pada awal hingga pertengahan pertandingan tim BOOM bisa dibilang mengalami kesulitan.
Kerja sama tim memang menjadi kunci namun Yopaj masih menjadi pusat perhatian. Puncaknya, inisiasi dari Lion, Tidehunter, dan Beastmaster di upper ground mampu menyudahi mengalahkan Invoker dan Wraith King dari TNC.
Skor berakhir tipis dengan keunggulan untuk BOOM yaitu 38-31 dan selesai di menit ke-44. Kemenangan ini memperpanjang rekor positif BOOM apalagi torehannya yang tanpa kekalahan selama DPC berlangsung.
Strong competition is always present at #SEADPCLeague but our teams always make sure they are prepared! 👌

Let's hear it from the boys of @TNCPredator and @boomesportsid on what they think about the upcoming match!

📺 https://t.co/LoZdmrZ4QIpic.twitter.com/2eAd9viIDE

— SEA DPC League (@SEADPCLeague) January 8, 2022
Secara kalkulasi, BOOM Esports sudah mengamankan tiket Major DPC meski jika nantinya kalah dua kali berturut-turut melawan T1 dan Execration. Karena pada posisi ketiga BOOM masih bisa bertanding melalui jalur Wildcard.
Namun lagi-lagi, dengan permainan BOOM yang dominan rasanya masih sangat sulit mengalahkannya hingga ke posisi ketiga.
BOOM Esports akan kembali bertanding di DPC SEA pada 2 pertandingan tersisa, berikut jadwal lengkapnya:
12 Januari 2022
– BOOM Esports vs T1 (18:00 WIB)
19 Januari 2022
– BOOM Esports vs Execration (15:00 WIB)