Esports Ecosystem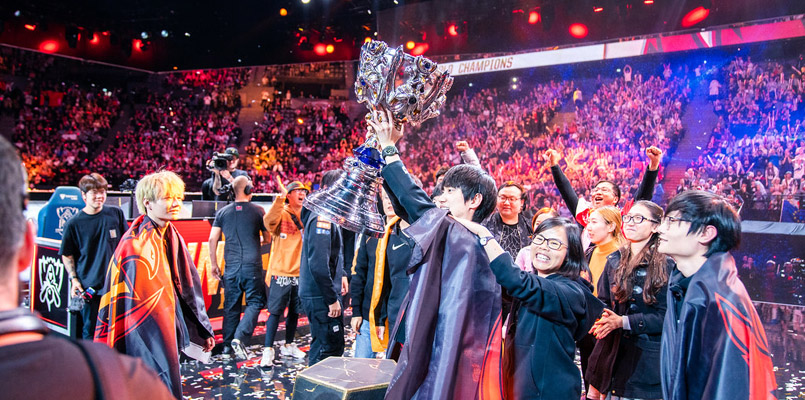 Kontrak hak siar eksklusif League of Legends World Championship ini berlaku selama 3 tahun
Perusahaan streaming asal Tiongkok, Bilibili bersedia membayar 800 juta yuan (sekitar Rp1,6 triliun) pada TJ Sport — perusahaan joint venture dari Riot Games dan Tencent — untuk mendapatkan hak siar eksklusif atas League of Legends World Championship di negara asalnya. Kontrak ini berlaku selama tiga tahun, yaitu mulai 2020 sampai 2022.
Menurut laporan The Beijing News, ini adalah pertama kalinya hak siar eksklusif atas turnamen esports dilelang. Bilibili berhasil menang, mengalahkan beberapa perusahaan streaming lainnya, seperti Huya, Douyu, dan Kuaishou. Meskipun begitu, para ahli menganggap, nilai yang dibayarkan oleh Bilibili ini terlalu tinggi. Menurut mereka, harga yang pantas untuk hak siar atas LWC selama tiga tahun adalah 500 juta yuan (sekitar Rp1 triliun).
Walaupun begitu, Bilibli tetap dapat mendapatkan untung. League of Legends World Championship adalah salah satu turnamen esports paling populer dengan jumlah penonton paling banyak. LWC 2019 memecahkan beberapa rekor. Salah satunya adalah pertandingan esports yang paling banyak ditonton. Dalam babak semifinal — yang mempertemukan SK Telecom T1 dan G2 Esports — jumlah penonton sempat mencapai 3,9 juta orang.
Tidak hanya itu, ada banyak fans League of Legends di Tiongkok. Hal ini terlihat dari fakta bahwa League of Legends Pro League (LPL), liga LoL di Tiongkok, merupakan liga LoL terbesar dengan jumlah tim peserta terbanyak di dunia. Tak hanya itu, pada tahun depan, LWC akan diadakan di Shanghai, Tiongkok, yang akan meningkatkan jumlah penonton aktif. Tak hanya itu, dua tahun belakangan, tim asal Tiongkok juga sukses memenangkan LWC. Tahun ini, FunPlus Phoenix berhasil membawa pulang Summoner's Cup meskipun mereka tidak dijagokan sementara pada tahun lalu, Invictus Gaming keluar sebagai juara.
Didirikan pada sembilan tahun lalu, Bilibili telah berkembang menjadi perusahaan streaming yang cukup besar sekarang. Pada 2017, Bilibili dikabarkan telah memiliki 31,6 juta pengguna. Namun, mereka mendapatkan sebagian besar keuntungan dari game mobile. Dikabarkan, game mobile menyumbangkan 80 persen dari total laba pada pertengahan 2018. Ketika esports mulai populer, mereka membuat Bilibili Gaming, organisasi esports yang membawahi dua tim profesional yang berlaga di League of Legends dan Overwatch.
Sumber: The Esports Observer, VP Esports, Dot Esports
From Our Network