Esports Ecosystem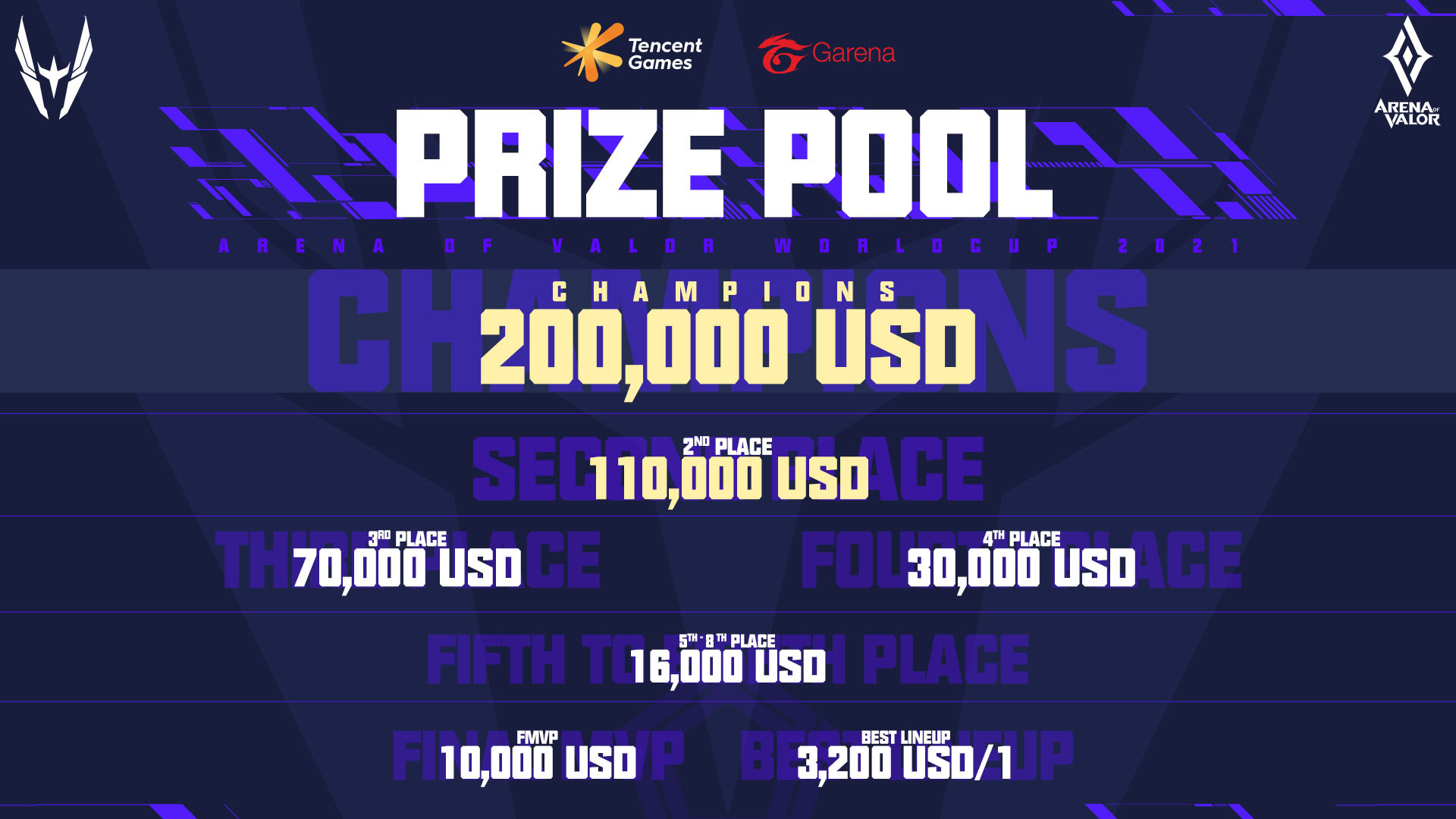 Turnamen akan digelar pada bulan Juni mendatang.
Tencent dan Garena telah mengumumkan bahwa Arena of Valor World Cup (AWC) akan kembali digelar tahun ini, setelah dibatalkan tahun lalu karena pandemi. Turnamen ini akan dimulai pada 19 Juni dan dilaksanakan secara online.
IT'S CONFIRMED! The AWC 2021 will feature 16 teams from 9 regions who will battle to be the world champion! The region of Vietnam will be represented by the top 3 teams from the Arena of Glory Spring 2021: Team Flash, Saigon Phantom, and V Gaming.

Which team will be victorious? pic.twitter.com/WVgzCati1u

— arenaofvalor (@ArenaofValor) May 18, 2021
Total prize pool AWC 2021 berjumlah US$500 ribu atau setara dengan Rp7 miliar. Tim-tim yang akan memperebutkan hadiah berjumlah 16 tim dari berbagai negara. Walaupun belum diketahui tim-tim mana saja yang akan tampil pada kesempatan ini, tetapi sudah diketahui negara mana saja yang akan mengirimkan perwakilan mereka beserta dengan jumlah timnya. Berikut ini adalah daftar tersebut :
Taiwan (3 tim)
Thailand (3 tim)
Vietnam (3 tim)
Indonesia (2 tim)
Korea Selatan(1 tim)
Tiongkok (1 tim)
Jepang (1 tim)
Malaysia/Singapura/Filipina (1 tim)
Brazil (1 tim)
Pada saat berita ini ditulis, tim yang sudah lolos kualifikasi sudah berjumlah 10 dari 16 tim yang akan berkompetisi. Negara-negara yang akan bertanding didominasi oleh negara-negara Asia dikarenakan Arena of Valor yang memang populer di Asia.
AWC akan dimulai dengan group stage pada tanggal 19 – 27 Juni 2021 untuk menyisihkan 8 dari 16 tim untuk melaju ke babak selanjutnya. Pada perempat final, yang berlangsung dari 30 Juni sampai 4 Juli 2021, 4 dari 8 tim akan melanjutkan persaingan ke babak semifinal pada 10-11 Juli 2021. Dan pada akhirnya ditutup dengan babak grand final pada 18 Juli 2021.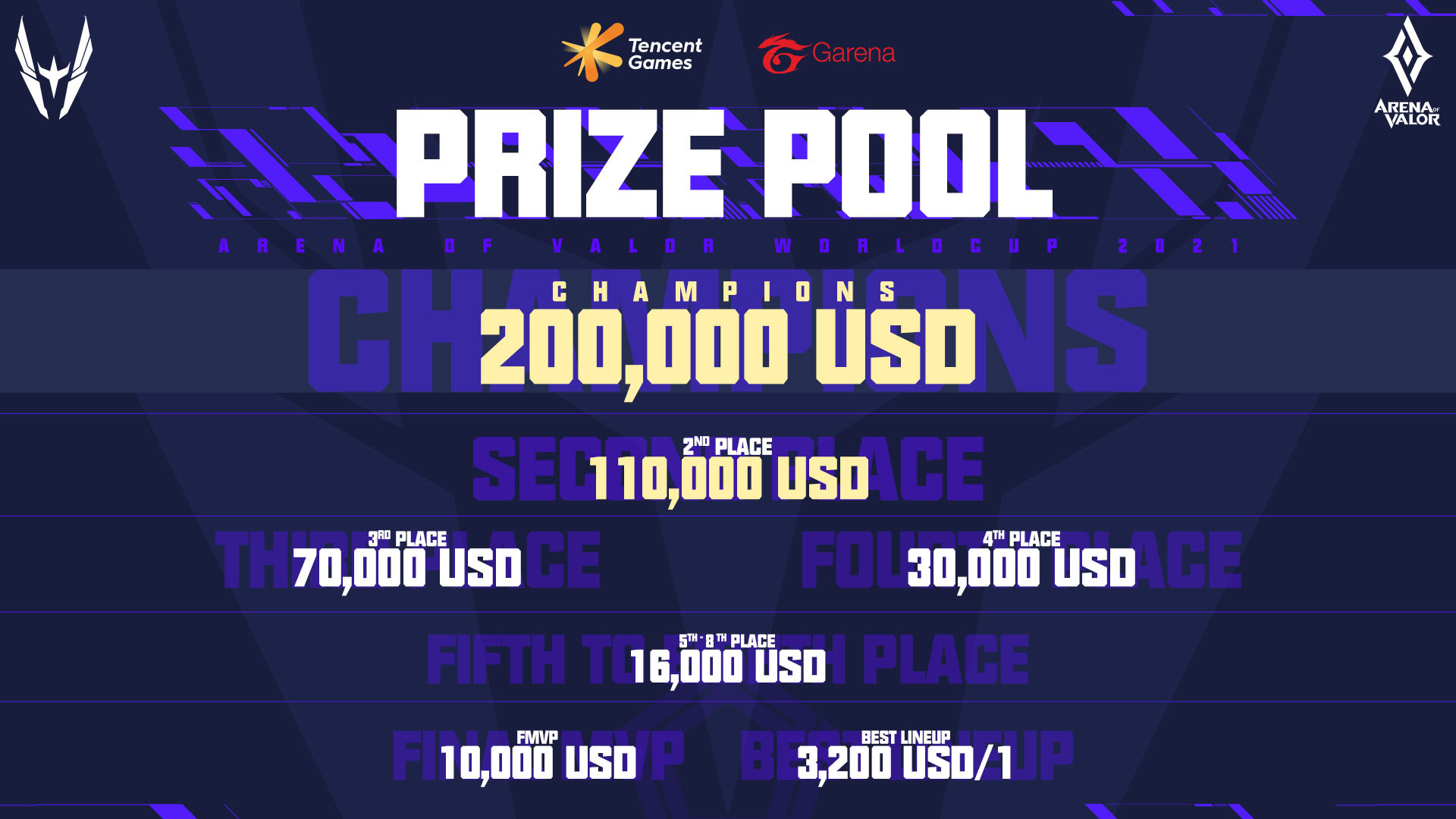 Pemenang akan membawa pulang hadiah sebesar US$200 ribu atau sekitar Rp2,8 miliar. Selain hadiah per tim, akan ada juga hadiah untuk perorangan dengan berbagai kategori yang telah ditentukan. Sebagai contoh, pemenang kategori Final MVP akan mendapat US$10 ribu atau setara dengan Rp143 juta.
AWC merupakan turnamen besar tahunan yang memang ditunggu-tunggu oleh penikmat competitive scene dari mobile game Arena of Valor. Hal ini dapat dibuktikan dari jumlah penonton turnamen Arena of Valor World Cup sebelumnya. Pada AWC 2019, turnamen ini mampu mendapatkan penonton sebanyak 74,5 juta secara kumulatif dengan puncaknya dengan 855 ribu penonton dari berbagai belahan dunia.
Arena of Valor World Cup 2021 akan disiarkan langsung dari berbagai platform, yaitu YouTube, Facebook dan Garena.live. Turnamen ini akan menyediakan siaran langsung dengan lima bahasa, yaitu Bahasa Indonesia, Bahasa Inggris, Bahasa Mandarin, Bahasa Vietnam, dan Bahasa Thailand.
From Our Network