Esports Ecosystem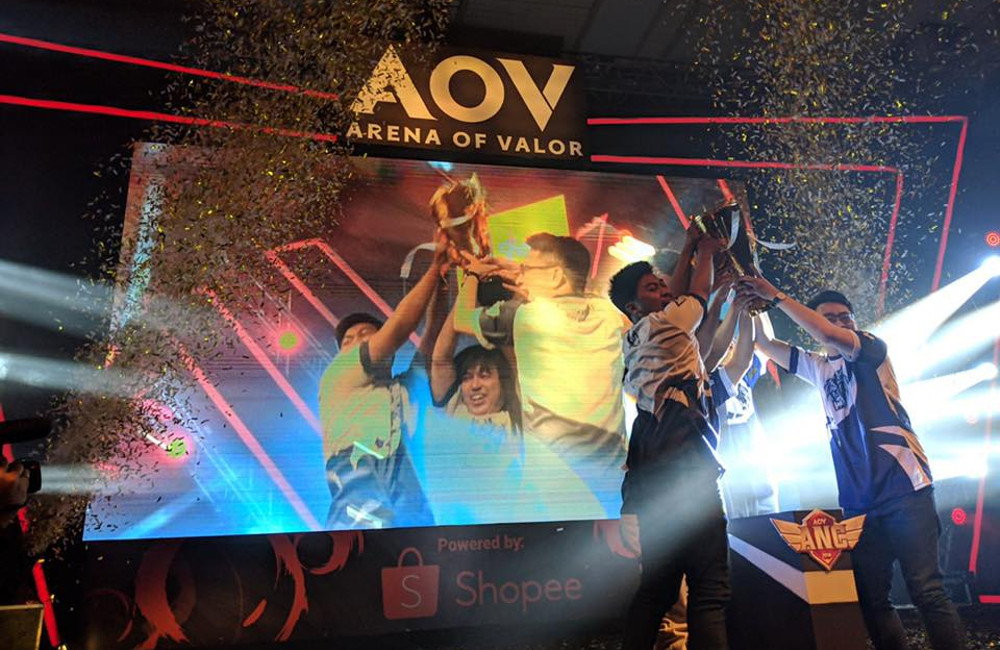 Tak kalah seru, final AOV Princess Cup dimenangkan oleh SES Ladies setelah menumbangkan DG Ladies
Hari Sabtu, tanggal 10 November 2018 lalu adalah hari yang spesial bagi para penggemar Arena of Valor di Indonesia. Setelah melalui jalan yang panjang, pada hari itulah babak final kompetisi AOV National Championship (ANC) 2018 Season 2 berlangsung. Berbarengan juga dengan final kompetisi khusus wanita yaitu AOV Princess Cup, semakin menambah semarak acara yang diadakan di Sasana Budaya Ganesha ITB ini.
Empat tim AOV profesonal papan atas bersaing dalam babak final ANC 2018, yaitu TEAM nxl>, We Against the World (WAW) Esports, Aura Esports, dan ONIC Esports. Pada pertandingan semifinal, TEAM nxl> harus takluk terhadap WAW Esports, sementara itu Aura Esports berhasil unggul terhadap ONIC Esports. Grand Final mempertemukan WAW Esports dengn Aura Esports, tapi sebelum itu ANC rehat sejenak untuk memberi ruang pada AOV Princess Cup.
Divisi wanita dari Saudara e-Sports (SES), yaitu SES Ladies di sini berhadapan dengan divisi wanita dari Dunia Games (DG) Esports. SES Ladies tampil meyakinkan, mereka memilih beberapa hero yang terkenal sangat kuat di meta seperti Maloch dan Slimz. Kombinasi dual tank Maloch dan Thane juga menyulitkan DG Ladies.
Dengan skor 1-1, pertandingan terakhir antara SES Ladies dan DG Ladies cukup menegangkan. DG Ladies unggul di early game berkat kemampuan ganking yang kuat dari Lindis, Mina, dan Natalya, bahkan sempat mendapat selisih kill hingga 9 angka dan net worth 6.000 Gold. Tapi SES Ladies bertahan dengan baik hingga berhasil merealisasikan potensi puncak hero-hero mereka di late game.
Clash besar di menit 20 dimenangkan SES Ladies, bahkan walau saat itu DG Ladies memiliki buff dari Dark Slayer. Airi dan Krixi yang memiliki kemampuan nuke kuat sangat dominan di pertarungan. DG Ladies tak mampu membendung serangan SES Ladies, sehingga harus menyerah di menit 30.
Sama seperti Princess Cup, Grand Final ANC kali ini pun berjalan dengan sengit. Dalam laga berformat best-of-five, Aura Esports dan WAW Esports harus menjalankan kelima ronde sebab skor mereka imbang. WAW Esports sempat unggul 0-2 terhadap Aura Esports, akan tetapi Aura Esports berhasil mengejar ketertinggalan.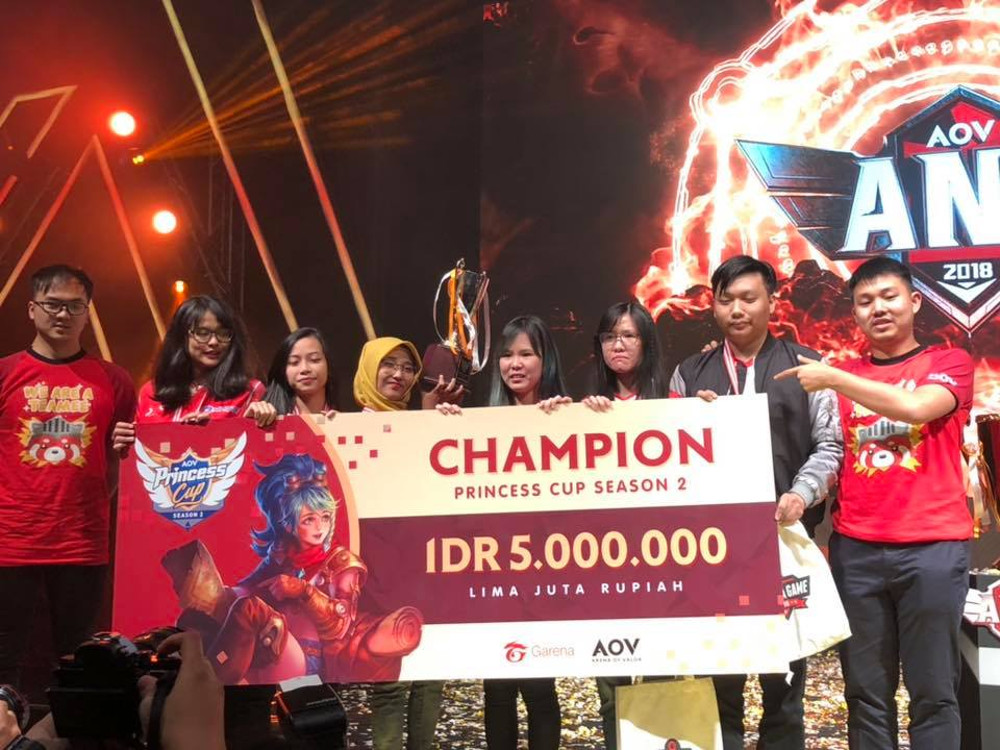 Uniknya, komposisi hero andalan WAW Esports cukup mirip dengan SES Ladies, sementara komposisi Aura Esports cukup mirip dengan DG Ladies. Tiga hero pilihan WAW Esports adalah Maloch, Thane, dan Slimz, sedangkan tiga hero pilihan Aura Esports adalah Lindis, Mina, dan Natalya. Hero sisanya cukup bervariasi, termasuk Omen, Roxie, bahkan Wiro, tetap enam hero di atas punya porsi sangat dominan di meta game saat ini.
Aura Esports kuat di early game, sementara WAW Esports mengandalkan late game. Pada akhirnya hasil ditentukan oleh seberapa baik WAW Esports bisa menahan gaya permainan snowball yang dilakukan Aura Esports, dan di ronde kelima, pemilihan Kahlii di posisi Mage sangat menguntungkan WAW Esports.
Kahlii memang terkenal sebagai Mage yang sangat jago mempertahankan tower. Ini membuat Aura Esports kesulitan melakukan pushing. Kedua tim tampak imbang, tapi sebenarnya, makin lama pertandingan berjalan, Aura Esports semakin terdesak. Clash di lokasi Dark Slayer pada menit 18 membuat Aura Esports porak-poranda, dan dua menit kemudian, mereka menyerah kalah.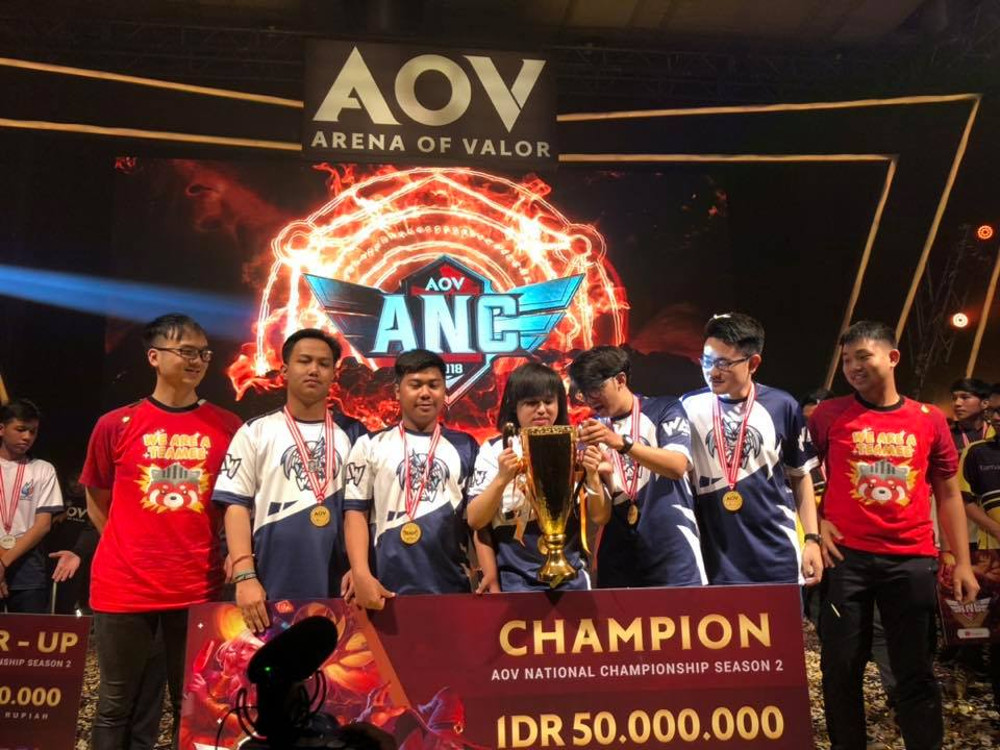 WAW Esports sang juara utama berhak pulang membawa hadiah senilai Rp50.000.000. Sementara itu juara AOV Princess Cup, tim SES Ladies, mendapat hadiah sebesar Rp5.000.000. Selamat kepada para pemenang, dan semoga ke depannya mereka semua bisa terus berprestasi. Jayalah esports Indonesia!
Sumber: Garena, ARKA-Gaming