Esports Ecosystem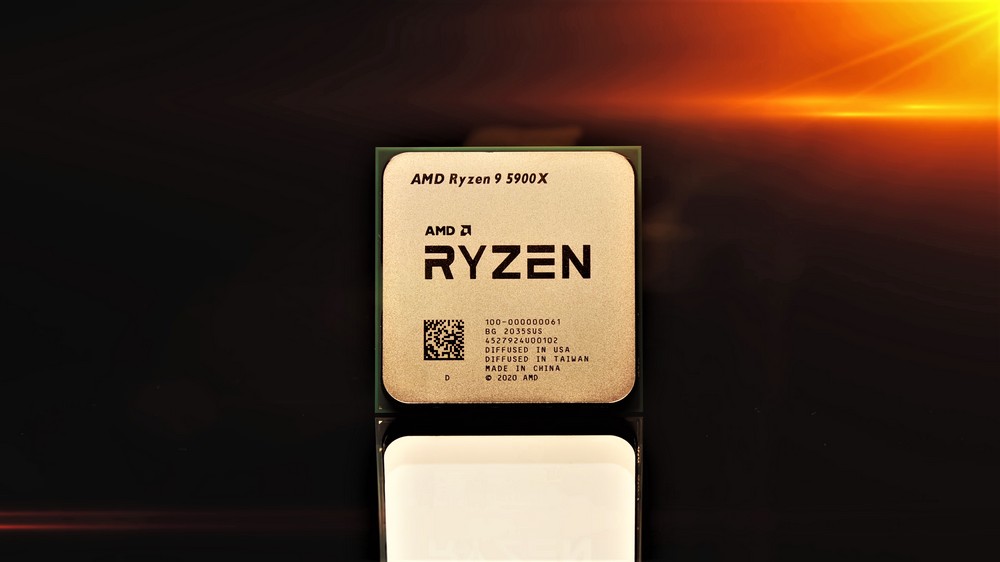 Kinerjanya lebih kencang 19% dibandingkan pendahulunya
Setelah berhasil mendobrak peringkat kinerja prosesor dengan arsitektur Zen 2-nya, AMD akhirnya kembali mengeluarkan prosesor terbarunya dengan arsitektur yang baru pula. AMD memperkenalkan jajaran prosesor desktop  Ryzen 5000 Series yang dibangun pada arsitektur "Zen 3". Pada peluncuran kali ini yang diperkenalkan adalah Ryzen 5 5600X, Ryzen 7 5800X, Ryzen 9 5900X, dan Ryzen 9 5950X.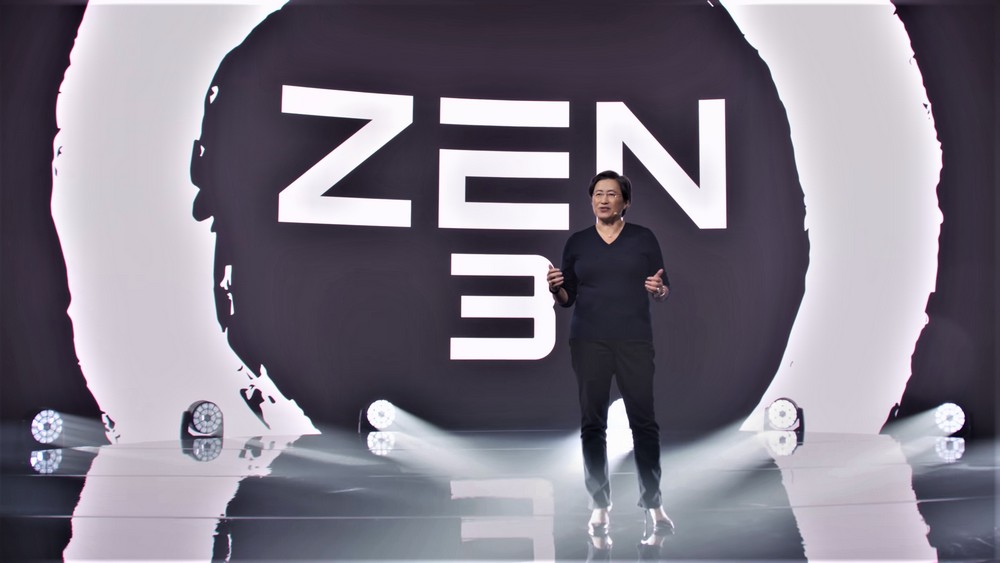 "Komitmen kami dengan setiap generasi prosesor Ryzen adalah untuk menciptakan prosesor PC terbaik di dunia. Prosesor Desktop AMD Ryzen 5000 Series baru memperkuat kepemimpinan kami pada segi IPC4, efisiensi daya3 dari single-core, hingga performa multi-core performance2 untuk kebutuhan gaming," kata Saeid Moshkelani, Senior Vice President and General Manager, Client Business Unit, AMD. "Hari ini, kami bangga menghadirkan apa yang diharapkan komunitas dan pelanggan kami dari prosesor Ryzen – performa multi-core dan single-core yang dominan dan kepemimpinan game yang nyata – seluruhnya dalam ekosistem motherboard yang luas dan chipset yang siap tersedia untuk Prosesor Desktop AMD Ryzen 5000 Series."
Zen 3 memberikan peningkatan instruction per clock (IPC) sebesar 19% dibandingkan dengan Zen 2. Pada Ryzen seri 5000 ini, ternyata AMD mampu meningkatkan frekuensi lebih tinggi lagi dibandingkan sebelumnya. Semua itu diproduksi dengan node 7 nm dari TSMC.
Kelima prosesor yang diluncurkan oleh AMD memiliki spesifikasi sebagai berikut
MODEL
CORES/

THREADS

TDP

(Watts)

BOOST/BASE FREQ. (GHz)
TOTAL CACHE
COOLER
SEP (USD)
EXPECTED AVAILABILITY
AMD Ryzen™ 9 5950X
16C/32T
105W
Up to 4.9 / 3.4
72MB
N/A
$799
November 5, 2020
AMD Ryzen™ 9 5900X
12C/24T
105W
Up to 4.8 / 3.7
70MB
N/A
$549
November 5, 2020
AMD Ryzen™ 7 5800X
8C/16T
105W
Up to 4.7 / 3.8
36MB
N/A
$449
November 5, 2020
AMD Ryzen™ 5 5600X
6C/12T
65W
Up to 4.6 / 3.7
35MB
Wraith Stealth
$299
November 5, 2020
Satu perubahan yang cukup mendasar dari Zen 3 dibandingkan dengan Zen 2 adalah menggabungkan dua CCX yang ada pada Zen 2 menjadi satu CCX pada Zen 3. Hal ini membuat 8 inti prosesor ada yang bisa mengakses cache L3 sebesar 32 MB dibandingkan CCX pada Zen 2 di mana 4 inti mengakses cache L3 sebesar 16 MB. Hal inilah yang membuat peningkatan IPC rata-rata 19% pada Zen 3.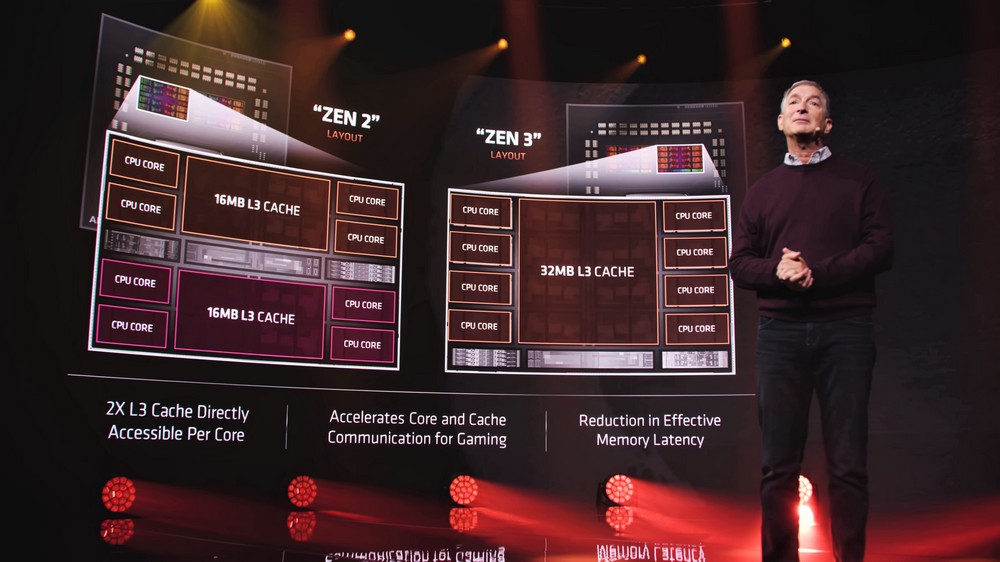 AMD mengatakan bahwa kinerja per watt yang dimiliki oleh Zen 3 lebih tinggi dibandingkan dengan Zen 2. Bahkan kinerja per watt ini lebih tinggi 2,4 kali lipat dibandingkan dengan Zen generasi pertama. AMD juga mengatakan bahwa prosesor terbarunya ini 2,8 kali lebih efisien jika dibandingkan dengan Core i9-10900K dari Intel yang masih menggunakan 14 nm.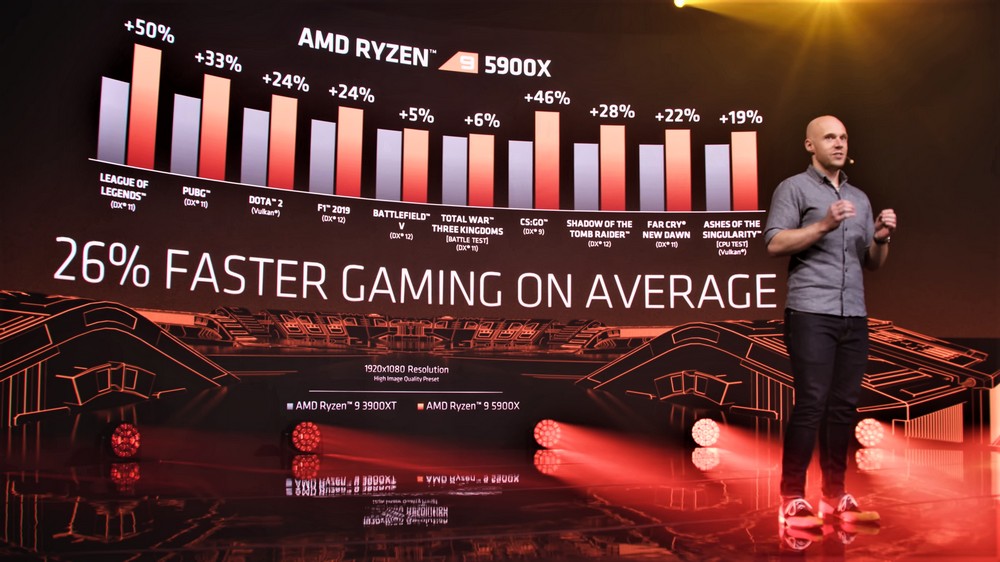 AMD juga memperlihatkan kinerja prosesor Ryzen 9 5900X dengan menggunakan Cinebench R20 single thread. Hasilnya, Ryzen 9 5900X diklaim sebagai prosesor pertama yang bisa mencapai 600 poin dalam aplikasi benchmark tersebut dengan mencapai nilai 631. Sebelumnya, Ryzen 9 3950X mendapatkan nilai 530 dan Intel Core i9-10900K ada pada nilai 551. AMD juga membandingkan beberapa benchmark gaming yang dilakukan pada Ryzen 9 5900X yang menghasilkan keunggula pada hampir seluruh game.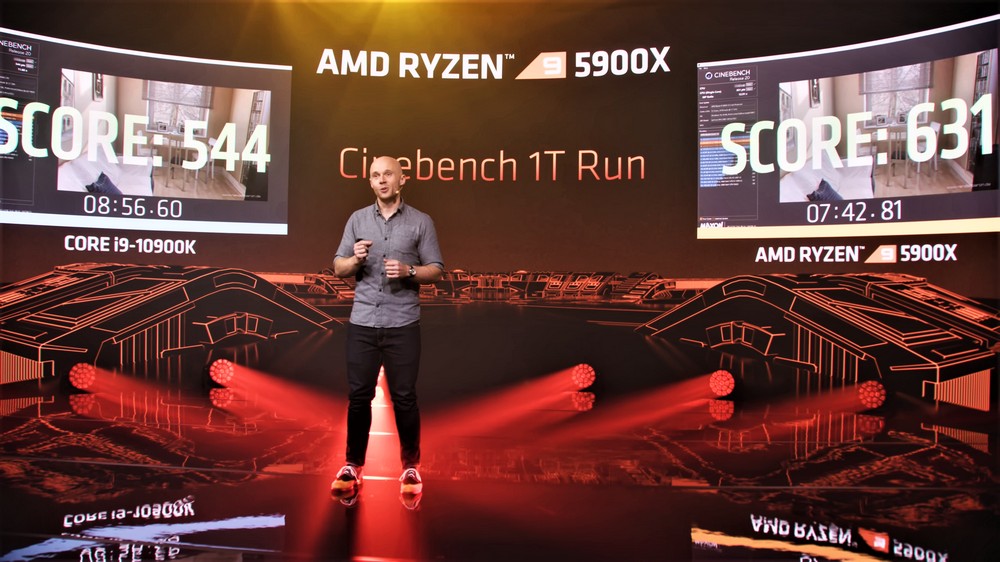 AMD juga menampilkan kinerja dari prosesor terkencangnya, yaitu Ryzen 9 5950X-nya. Dibandingkan dengan Intel Core i9-10900K, Ryzen 9 5950X memiliki kinerja yang lebih baik sekitar enam persen. Namun jika dibandingkan dengan generasi sebelumnya, Ryzen 9 5950X mampu memberikan peningkatan 27%.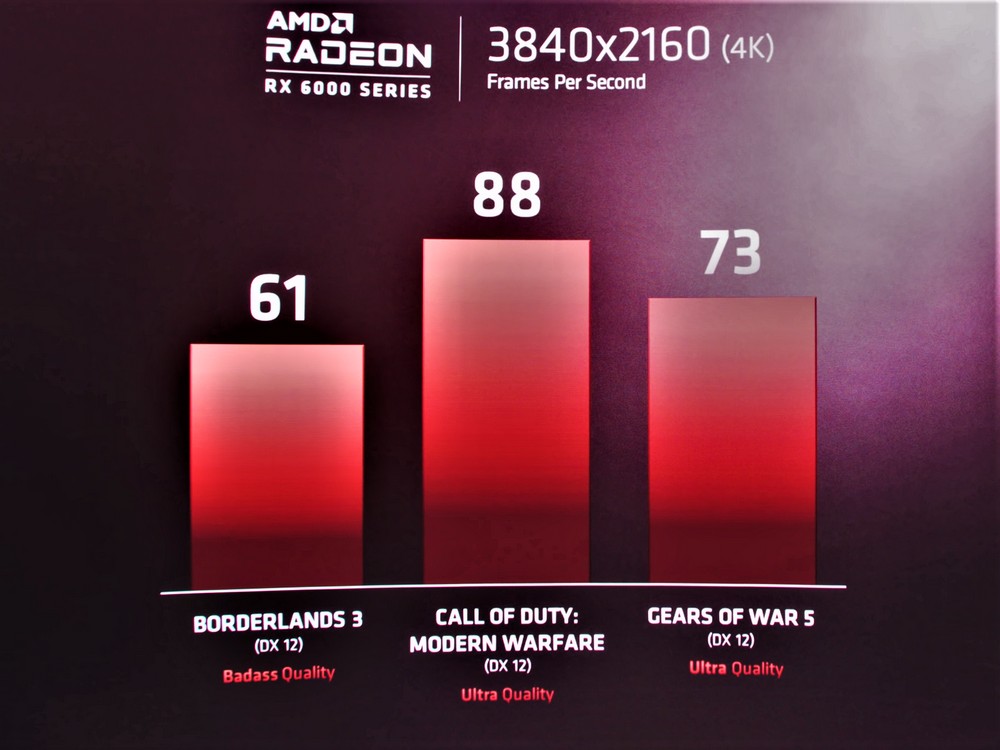 Terakhir, AMD memperlihatkan teaser kinerja dari GPU mereka yang bakal diluncurkan, yaitu Radeon RX 6000. AMD memperlihatkan nilai benchmark tiga buah game yang menggunakan CPU Ryzen 5000 dan Radeon RX 6000. Ternyata, hasilnya cukup mirip dengan kinerja dari GeForce RTX 3080 dari NVIDIA. Tampaknya AMD bakal kembali membuat pasar komputer menjadi panas kembali.