Esports Ecosystem
Sangat mendominasi, Alter Ego Celeste raih juara VCT Game Changers APAC 2022 tiga kali berturut-turut.
Ranah esports VALORANT di kategori perempuan masih didominasi oleh tim asal Indonesia, Alter Ego Celeste. Pasalnya, tim tersebut baru saja menjuarai VCT 2022: Game Changers APAC Open 3.
Tim ini kembali menjuarai gelaran Game Changers APAC Open setelah mengalahkan X10 CRIT Female. Meski menjadi juara, langkah Alter Ego Celeste juga tidak bisa dibilang mudah.
Untuk pertama kalinya di rangkaian turnamen VCT 2022, Alter Ego Celeste harus bertanding ke grand final melalui jalur lower bracket.
Alter Ego Celeste, Sang Ratu VALORANT Asia Tenggara
Turnamen yang didukung langsung oleh FSL dan Riot Games kali ini membawa total 16 tim di babak grup. Namun hanya ada 8 tim yang berhak melaju ke fase playoff.
Setelah melewati babak grup, berikut 8 tim yang melaju ke fase playoff di VCT 2022: Game Changers APAC Open 3, yaitu:
1. Aresta
2. FUMA Ladies
3. BIG SCYTHE
4. Team SMG
5. Orangutan Female
6. Alter Ego Celeste
7. Bren Esports Victress
8. X10 CRIT Female
Perjalanan Alter Ego Celeste sendiri sangat mengejutkan, apalagi kalau bukan kekalahan telak di hari pertama playoff. Eisberg dkk. harus dikalahkan oleh BIG SCYTHE 2-0 tanpa balas dan melalui petualangan dari lower bracket.
Kekalahan ini menjadi bahan evaluasi penting tim, alhasil Alter Ego Celeste terus melaju hingga ke partai final. Untuk mengamankan tiket ke final, tim ini juga harus mengalahkan beberapa tim kuat seperti Orangutan Female, Team SMG, dan Bren Esports Victress.
Pada laga final, Alter Ego Celeste bisa dibilang kembali bertemu sang rival abadi, X10 CRIT Female. Kedua tim memang setia menghiasi gelaran grand final di turnamen esports VALORANT kategori perempuan.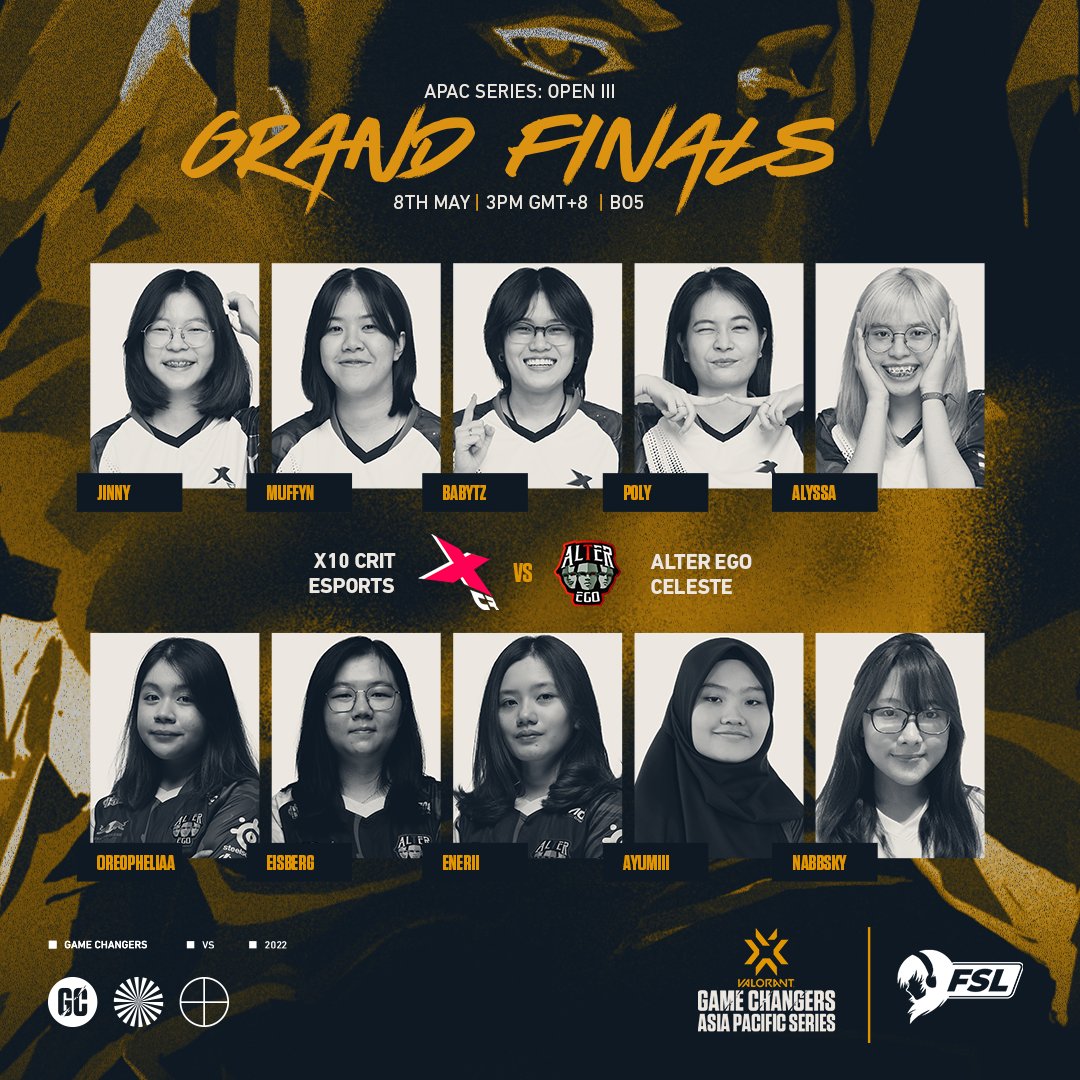 Sebelumnya, Alter Ego Celeste mampu mengalahkan X10 CRIT Female dengan skor tipis 3-2 di VCT 2022: Game Changers APAC Open 1.
Meski diramal menjadi ajang yang sengit, Alter Ego Celeste justru berhasil menang dengan skor 3-0 tanpa balas. Hasil yang sangat dominan ini membuat Alter Ego Celeste mempertahankan gelar juara 3 seri turnamen berturut-turut.
Berikut torehan hadiah 4 besar beserta distribusi poin, yaitu:
Juara 1: Alter Ego Celeste – US$1,500 & 20 Poin
Posisi 2: X10 CRIT Female – US$1,200 & 17 Poin
Posisi 3: Bren Esports Victress – US$800 & 15 Poin
Posisi 4: Team SMG – US$600 & 14 Poin
Dengan kemenangan ini, Alter Ego Celeste kian dekat untuk lolos sebagai tim pertama menuju VCT 2022: Game Changers SEA Elite.
-AE Celeste only need 3 points in the last Open to secure their place in GC Elite

-Quintuplet needs to win Open 4 (+20p) to have a chance to go to Elite

-Orangutan, HZ KDA, GamDaeng and so on couldn't go directly to GC Elite, they still need to defend their place for Overtime https://t.co/8GoWvZ5U94

— Esports ID – Valorant SEA (@esportsid_) May 8, 2022
Alter Ego Celeste siap kembali berjuang mempertahankan gelar juara pasca menjuarai seri sebelumnya di VCT 2021: Game Changers SEA FSL Elite setelah mengalahkan Mad Army dengan skor 3-1.