Game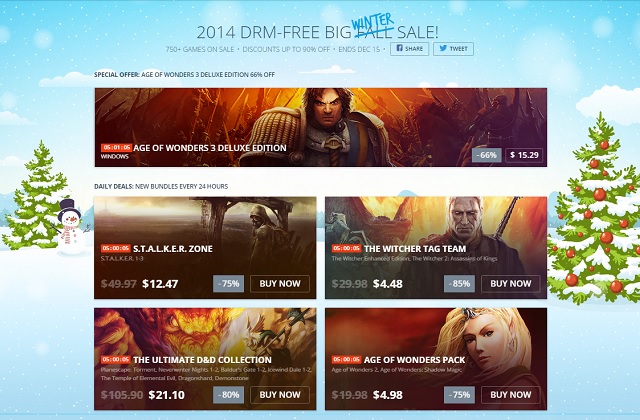 Momen Black Friday sudah lewat, dan Steam Sale-pun telah berakhir. Melihat isi dompet dan game-game di Steam Library, Anda mungkin menyesal mengapa terlalu kalap ketika ada diskon besar-besaran di sana. Jangan cemas, Anda masih bisa berbelanja meski dana pas-pasan, karena GOG.com kembali melangsungkan program potongan harga hingga 90 persen.
Namun seandainya uang benar-benar tak tersisa, saya sarankan Anda tetap mengunjungi situs Good Old Games. Mengapa begitu? Di sana, tim CD Projekt RED juga lagi bagi-bagi permainan klasik gratis, berjudul Age of Wonders. Tetapi sebaiknya Anda bergerak cepat, karena jumlah kopi game-nya terbatas dan kuotanya kian menipis. Melalui artikel ini, saya akan mencoba memandu Anda.
Segera kunjungi GOG.com. Log-in ke akun Anda (Belum daftar? Sign-up sekarang!), lalu scroll ke bawah hingga ada tulisan 'Free game: a wonderful present for everyone' dan klik tombol di bawah untuk memperoleh kuponnya. Game tak serta merta bisa langsung dimainkan. Ada banyak orang yang menantinya, dan Age of Wonders baru akan masuk ke Library setelah ada konfirmasi transaksi via email dari GOG.
Promo potongan harga di GOG.com ini merupakan kelanjutan dari 2014 DRM-Free Big Fall Sale yang berakhir tanggal 25 November lalu. Untuk sekarang, mereka mengangkat tajuk 2014 DRM-Free Big Winter Sale, sebagai peringatan memasuki Musim Dingin. Primadona dalam program diskon teranyar GOG adalah bundel dan paket game, dibanderol dengan harga sangat murah.
Info menarik: Bantu Game Lokal DreadOut Memenangkan IndieDB Indie of The Year Award 2014
Saat artikel ini ditulis, ada lima paket penawaran permainan dengan total diskon senilai ratusan dolar: Age of Wonders 3 Deluxe Edition (soundtrack, concept art, dan bonus digital lain, US$ 15,3), STALKER Zone (S.T.A.L.K.E.R. 1 sampai 3, US$ 12,5), The Witcher Tag Team (The Witcher pertama dan kedua, US$ 4,5), The Ultimate D&D Collection (Planescape: Torment, Neverwinter Nights 1 dan 2, Baldur's Gate 1 dan 2, Icewind Dale 1 dan 2, The Temple of Elemental Evil, Dragonshard, Demonstone, cuma US$ 21,1) dan Age of Wonders Pack (Age of Wonders 2 dan Age of Wonders: Shadow Magic, US$ 5).
Lima judul ini akan diganti setiap 24 jam, dan sebaiknya Anda selalu cek website Good Old Games tiap hari sampai event 2014 DRM-Free Big Winter Sale selesai, yaitu tanggal 15 Desember 2014. Harapan saya, mudah-mudahan CD Projekt telah menyiapkan judul gratis lain dalam program diskon sepuluh hari tersebut.
Di bagian bawahnya, terdapat pula diskon 'Flash Deals', dengan penyajian berbeda. Permainan-permainan diurutkan, dan ketika waktunya tiba, potongan harga baru berlaku. Pesan saya, jangan sampai ada yang terlewat.