Game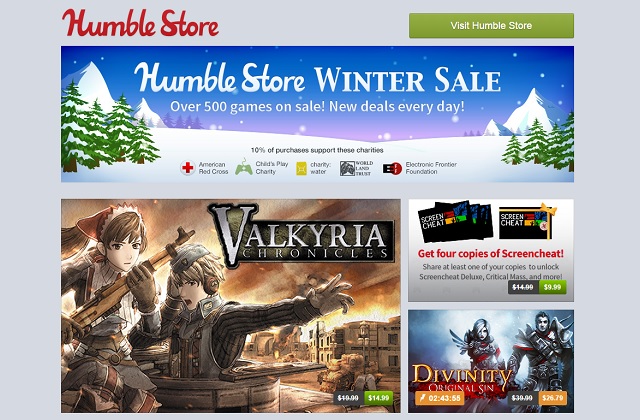 Website Humble Bundle mempunyai sebuah moto, "Beli yang Anda inginkan, bebas DRM, mendukung cross-platform, sembari berderma." Di sana merupakan tempat dimana game disuguhkan dengan penawaran sangat menarik. Dan ketika mereka memutuskan untuk memulai program diskon, harganya dapat membuat kita semua tercengang.
Seusai Steam 'Exploration' Sale, CD Projekt Red meneruskan semangat potongan harga melalui 2014 DRM-Free Big Winter Sale di GOG.com. Namun bahkan sebelum event tersebut berakhir, Humble Bundle juga mengumumkan program Winter Sale di situs mereka, mengancam seluruh isi dompet Anda yang sebenarnya sudah berada di titik kritis.
Di Winter Sale, Humble Bundle menjajakan 500 lebih game dengan potongan harga, dan ada penawaran baru tiap hari. Ia sebenarnya dimulai sejak kemarin, rencananya akan berlangsung selama dua minggu, kemudian berakhir hari Selasa tanggal 23 Desember nanti. Nama Humble Bundle kerap dikaitkan dengan game-game independen. Namun sebetulnya ada banyak permainan blockbuster ditawarkan di harga murah.
Buat hari ini, Humble Bundle menyuguhkan lebih dari 40 judul game. Sangat banyak dan kadang membingungkan. Saya akan mencoba memandu Anda mencari permainan terbaik, kecuali Anda memiliki cukup modal untuk membeli semuanya. Tak jauh dari tampilan awal Humble Store, Anda bisa langsung menemukan beberapa game wajib main.
Info menarik: Age of Wonders Gratis dan Diskon Game Sampai 90 Persen di GOG.com
Mereka adalah Valkyria Chronicles (US$ 15), Divinity: Original Sin (US$ 28), The Walking Dead Season Two (US$ 8,5), Batman: Arkham Asylum (US$ 5) dan Splinter Cell: Blacklist (US$ 7,5). Valkyria Chronicles ialah remake permainan RPG taktis buatan Sega, dirilis enam tahun silam untuk PlayStation 3 dan akhirnya tersedia di Windows PC bulan November kemarin. Tapi jangan lewat Thief di pojok kanan atas, ia hanya dijual US$ 7,5.
Meski judul-judul tersebut memang menggiurkan, jangan lupakan game-game independen. Ada belasan permainan indie mengagumkan yang dijual hingga mencapai US$ 2 saja. Rekomendasi saya, Anda harus memainkan TowerFall: Ascension (US$ 7), Surgeon Simulator 2013 (US$ 2,5), Sanctum 2 (US$ 3), Outlast (US$ 5) dan Lara Croft and the Temple of Osiris (US$ 20).
Favorit saya pribadi adalah game first-person 'narrative exploration' Dear Esther, cuma US$ 2. Judul Steam Early Access juga mendapatkan potongan, yaitu Prison Architect (US$ 10) dan Darkwood (US$ 11,3). Tak hanya itu, Anda dapat memesan Final Fantasy XIII-2 versi PC seharga US$ 18.
10 persen penjualan di Humble Store akan disalurkan ke lembaga amal seperti Palang Merah, Child's Play Charity, penyediaan air bersih, World Land Trust dan Electronic Frontier Foundation. Siapa yang bilang gamer tidak peduli sesama?
Sumber: Humble Bundle.